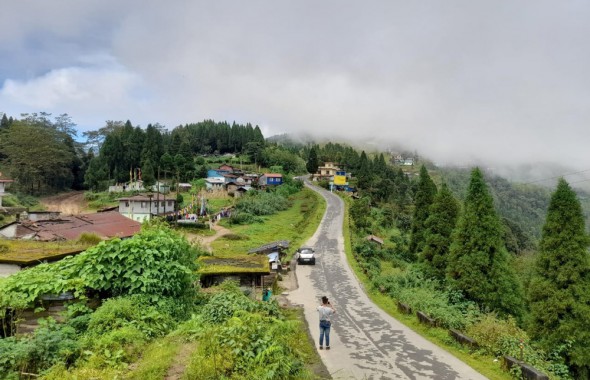 Monday, Sep 28, 2020 10:30 [IST]
Last Update: Monday, Sep 28, 2020 04:55 [IST]
Pandemic fails to deter Hiley border bonhomie
PRASHANTACHARYA
SILIGURI:Even as India and Nepal have closed their borders due to coronavirus, the Hiley border under India's Darjeeling district and Nepal's Ilam district witness an amazing bondbetween the neighbouring villagers that no protocol forced them to remain confined within their own territories.
The border situated some 10 km from Mirik is divided only by a metalled road. People here are freely crossing the border and informed that not a singleCovid positive case have come till date.
The Hiley villages of India and Nepal have some unique and surprising facts that have been carried since decades. Indians having homes go to pray in Nepal temple crossing the international border in a minute walk.
Indians cross the border to buy essential goods including vegetables and grocery items in the Nepalese soil.
Since there are no spacious parking plots, drivers from India park their vehicles inside the Nepalese territory.
Rabin Rai of Hiley village in Nepal said, "The closure of border between India and Nepal due to coronavirus did not affect these villages because the bonding is since years and it will be difficult if it is totally closed. Our relatives are in India, I have to visit every day for many important works similarly Indians also visit here. If someone on the Indian side faces problems they shout from their 'varandah' and we hear their voice."
"This is a village life and since the border is just a road here we have made a habit of crossing the border from morning till night. Our kids have friends in Nepal and can't force them not to cross the border. They play games and don't have the feeling of two different nations," said Ram Tamang.