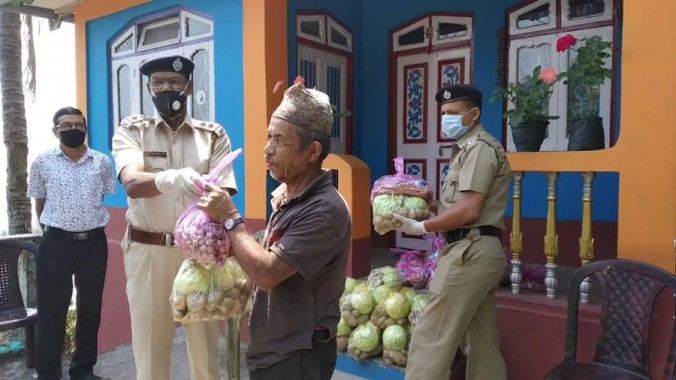 Thursday, Jun 04, 2020 13:45 [IST]
Last Update: Thursday, Jun 04, 2020 08:05 [IST]
Panighatta cop supports needy with ration
PRASHANTACHARYA
SILIGURI: Tapan Das, the officer-in-charge of Panighatta Police outpost, has not only won the hearts of thousands of tea workers and villagers but is also being applauded for his initiative of distributing ration and food grains to the poorduring the lockdown.
The energetic police officer along with his team including civic volunteers have visited around 12 villages to distribute rations and food grains to more than 10,000 destitute people amid nationwide lockdown in the wake of the coronavirus outbreak.
Since the lockdown began, Das along with his team started collecting rations, food grains and vegetables from various donors and started reaching out to remote villages to help people to ensure no one remains hungry during the crisis.
"This is our duty to support people during crisis. We distributed rations, vegetable, medicines and other essential items amongst the vulnerable families affected by lockdown. I have also provided indoor game kit for the migrants staying at different quarantine centres under my police station," said Das
On Wednesday, Daspresentedcarom board, ludo, chess and other indoor games for the people staying at Panighatta quarantine centre.
"This is the only police officer I have seen in GTA area who has come here as our Godfather.He distributed ration to needy people regularly by travelling to various tea gardens and villages. He also did not hesitate to trek several kilometres to meet destitute people to help them during crisis" said DiwakariChhetri, a local NGO member.