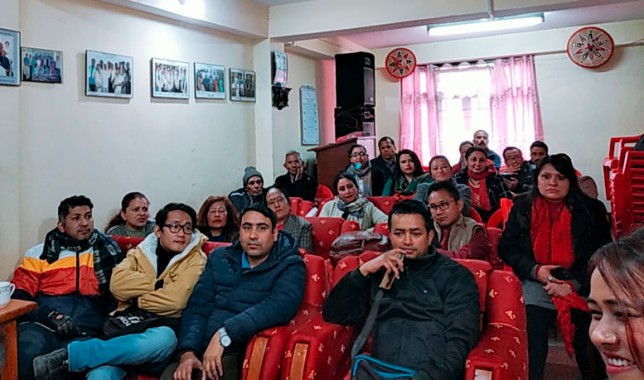 Sunday, Feb 16, 2020 13:00 [IST]
Last Update: Sunday, Feb 16, 2020 07:27 [IST]
PCS to publish club souvenir magazine
SE Report
GANGTOK: The Press Club of Sikkim (PCS) held its general body meeting at the club office here today. The meeting chaired by PCS president Joseph Lepcha deliberated on the activities to be undertaken for the welfare of journalists. Sub-committees were also constituted for publication of the club souvenir later this year.
The souvenir would be published in English, Nepali and Hindi languages for which BhimRawat, ArjunPiyush, Anita Niraula and Rajendra Pradhan were named the members for Nepali section, BijayBantawa, PemaWangchuk, Bijoy Gurung and Samir Hang for English section and Subash Deepak, Nita Nirash and AshwiniAnand for Hindi section.
Tara Dhakal and Mohan Sharma were named for the design team along with C.B. Chettri, DilaChettri, JharnaNeopaney and Sandeep Prasad for advertisements, a PCS release informs.
Today's meeting also took note of various issues concerning the journalists and decided to place them before the concerned authorities.
PCS general secretary Puran Tamang delved on the problems faced by journalists and spoke on the need to expedite the journalists' health insurance scheme. The meeting also decided to repair and start using the building provided by the State government for PCS office at Tadong.