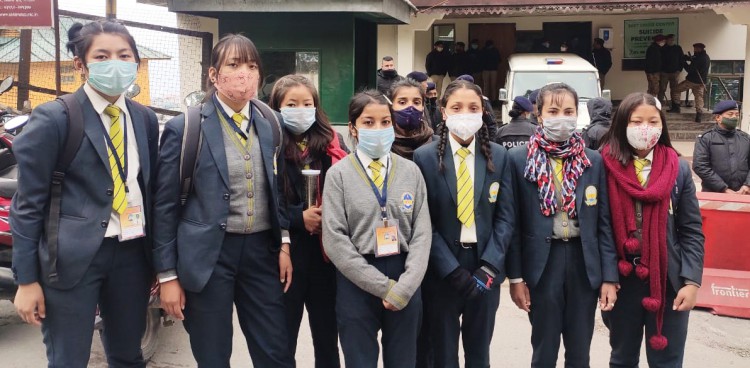 Sunday, Feb 07, 2021 07:45 [IST]
Last Update: Sunday, Feb 07, 2021 02:06 [IST]
Police detains protesting Geyzing college students
GANGTOK,: Eighteen male students of Geyzing Government College were detained by Gangtok police late Friday night following a complaint made by the Education department.
These students were among the 30-odd students from Geyzing Government College who had camped at Education department here for past few days. They were demanding a meeting with the Education minister citing delay in completing the college infrastructure at Geyzing despite a written assurance of timely completion given by the government in last March itself.
Speaking with media before Gangtok police station, the students group questioned what crime they have done that led to the students being detained by police. "We are here peacefully to highlight our issues and concerns over the college infrastructure based on the assurances given to us. Why our friends were taken away by police late at night and detained?," asked the students.
The students demanded unconditional release of their friends and a meeting with the Education minister.
As per reports, two students from the group have been accused in the complaint as 'trespassing and wrongful restraint' of Education additional chief secretary G.P. Upadhyaya. The alleged incident took place on Friday evening at Education department.
Some of the detained students were released during the day while it is not yet confirmed as to how many students are still in police detention.
'Release students immediately'
Meanwhile, Hamro Sikkim Party (HSP) has condemned the police detention of protesting Geyzing Government College students.
"HSP strongly condemns the arrest of students of Geyzing college who were raising the pertinent issues on infrastructure development of their campus which is long due. The department instead of arranging meeting and coming to an amicable solution has instead used undemocratic measures to suppress their voices and curb their rights," said HSP president Dr. Bina Basnett.
"I urge the people of Sikkim to divert their attention to issues like this. Students are the future of our State and killing their aspirations in the womb itself is not just. HSP demands that the students should be released immediately and all charges against them should be dropped or else HSP shall come forward to highly oppose it," said Dr. Basnett.