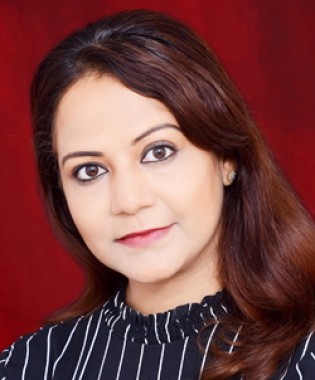 Monday, Mar 01, 2021 08:15 [IST]
Last Update: Monday, Mar 01, 2021 02:34 [IST]
Preety Srivastava: National Vice President MSME & STARTUPS FORUM- North East India
Preety Srivastava
MSME & Startups North East India finds its new Mentor, Coach in the form of National Vice President Ms Preety Srivastava. She is the founder President of Your Image Clinic By Preety Srivastava, based in New Delhi NCR. She is India's Ace Image Consultant, Corporate Consultant, Soft skills Trainer, International Business Etiquette & Career Coach.
MSME & Startups Forum –Bharat is a pan India platform for MSMEs, Start-Ups , Entrepreneurs, Businesses, Professionals & Consultants to connect & network. This forum is an initiative highly inspired by our Prime Minister Shri Narendra Modiji's mantra of "Atma Nirbhar Bharat " and "Vocal 4 Local"
The forum was conceptualized and founded by Shri Manoj Kumar Shah. The forum is smoothly functioning across pan India under the guidance of Dr. Vijay Chauthaiwale who is Member, Mission High Level Committee Atal Innovation Mission, Niti Ayog, Government of India, who happens to be the Chief Patron of the Forum.
The National Vice President Ms Preety Srivastava expressed her happiness and stressed on the need of opening the North East state chapters. The landlocked seven sisters of North east region besides Sikkim, though blessed with fortune of natural resources yet is almost ten years behind the rest of India due to lack of resources. The eight North East states is the host to one of the most treasured and eco-friendly area in India with vast natural resources and a cauldron of different people and cultures.
"Despite this North East States face a number of critical developmental challenges. The region is characterized by low per capita income, low capital formation, inadequate infrastructural facilities, communication bottleneck and geographical isolation from the mainstream. Owing to the presence of multi-pronged deficits, the full potential of the NE region could not be tapped. In current context, the emerging MSME sector provides a new hope not only to the unemployed population of the region but also in bringing overall balanced growth. On opening and developing the four states MSMEs and Startup Forum chapters in Arunachal Pradesh, Assam, Manipur, Sikkim," Ms Srivastava said. She mentioned the need of uniting the local businesses and entrepreneurs. "The mission is to develop, support & promote Micro, Small, and Medium Enterprises by nurturing & developing skills. Through social media platforms like Facebook, LinkedIn and Whatsapp group, local chapters in various cities are functioning. All the chapters are under the leadership & guidance of capable Conveners, Co- Conveners, State Presidents and Patrons. Every one is working with conviction to help, support the MSMEs and Start-ups. Members achieve their goals by facilitating advisory services to our members & potential buyers / investors by organizing webinars, seminars, trade shows, and personal connect one –to-one meetings. In the forum there is availability of Labour /Tax Lawyers, Charted Accountants and Bankers on our panel to provide the necessary support and guidance," she said.
In Sikkim, the team is led by Editor, SIKKIM EXPRESS, Mr. Amit Patro from Gangtok, along with his core team members Sri Shrish Khare, Co- Convener and Patron Smt Rajkumari Thapa, MLA, BJP. "I am confident that the Sikkim Team will drive the mission of development of MSMEs and Startups in Sikkim with much commitment and enthusiasm," Ms Srivastava said.