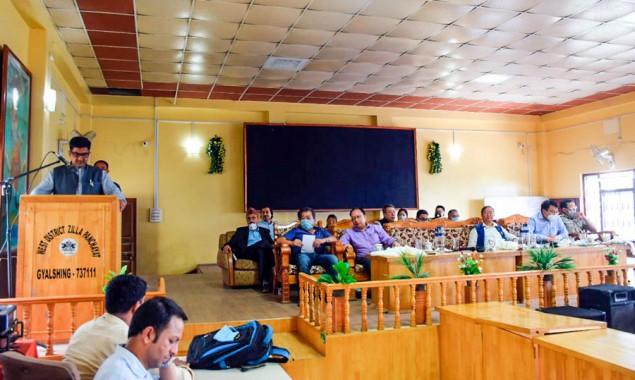 Wednesday, Jul 15, 2020 12:00 [IST]
Last Update: Wednesday, Jul 15, 2020 06:23 [IST]
Preparatory meeting held for Krishi loan mela
GEYZING (IPR): Agriculture minister Lok Nath Sharma chaired a preparatory meeting for the upcoming Krishi Loan Mela, at West District Zilla Panchayat Bhawan here today. The loan mela is scheduled to be held on July 22 at Geyzing, for the farmers of all eight constituencies of west district.
The meeting was also attended by the Gyalshing Municipal Council chairman I.K. Neopaney, Animal Husbandry secretary S.B. Subba, Horticulture secretary M.T. Sherpa, Agriculture principal director Sherap Bhutia, district collector Karma R. Bonpo, superintendent of police T.W. Bhutia, RBI AGM I.Y.T. Namchu, SBI LDM Gopal Lama, managers from various bank branches, district officers in-charge of Agriculture, Horticulture and Animal Husbandry and Veterinary Services departments, All Sikkim Contractor Welfare Association chairman N.B. Dahal and others.
Minister Sharma, in his address, asserted the upcoming Krishi Loan Mela as one of the historic initiatives of State government for the rural upliftment and sustainable livelihood of the farmers.
He directed concerned officials for strict and regular monitoring of the farming activities of the beneficiaries after disbursement of loan. Every farmer needs to utilise the amount for materializing assigned project in order to pave the way for repayment process, he said.
He also proposed increase in numbers of high yielding varieties of livestock to achieve targeted goal of producing two lakh litres of milk per day within next two years.
Minister Sharma also advised banks to provide loan along with insurance coverage. He strongly advocated for supporting farmers and asked bankers to adhere to the decisions and declarations made in previous meetings.
He also directed the house to constitute a committee for organising the event involving the All Sikkim Contractor Welfare Association chairman, Geyzing Municipal Council chairman, secretaries of Agriculture, Horticulture and Animal Husbandry and Veterinary Services departments, DC, SP, RBI AGM, lead bank manager and key persons from Gyalshing-Bermiok and Yangthang constituencies.
Animal Husbandry secretary S.B. Subba elaborated various initiatives to be taken up by the department and assured bankers support to farmers to enhance their capacity for repayment of the loan. The department will provide training to the farmers to increase their livestock rearing skills and farmer friendly policies will also be framed at the earliest, he said. He also shared work progress pertaining to procurement of high yielding variety of livestock, upgradation and strengthening of Sikkim Milk Union among others and assured to act more vigorously and effectively.
Horticulture secretary M.T. Sherpa outlined challenges and strength part of farming profession. He also drew light on increasing priority of the government to promote agriculture and horticulture entrepreneurship and stated, worth investing in agriculture and allied sectors. He also informed about the provision of 60% subsidy available in bamboo mission.
Speaking in the context of water resources, the secretary informed that a strategic plan for convergent action is being taken up in near future, wherein the Forest department shall work for water conservation, Irrigation department for channelling and the Agriculture/ Horticulture department will focus on other interventions.
District collector Karma R. Bonpo drew light on various components to ensure well-structured and an organised system to increase paying capacity of the farmers. He also came out with slew of advices for reduction in interest rate of loan in agriculture sector, implementation of Pradhan Mantri Kishan Yojana, PM Fasal Bima Yojana at parallel with the release of Krishi loan, convergence of Pradhan Mantri Krishi Sichai Yojana and Irrigation department, fodder plantation, etc. He also appraised the need of a milk processing plant of small capacity and a slaughter house for smooth flow of farmer's supply chain in the west district. He also urged for revival of hatcheries of the district to ensure easy availability of chicks.
RBI AGM I.Y.T. Namchoo informed that the Reserve Bank of India has been carrying out all exercises in coordination with the lead bank and other branches. He also asked bank branches for in-principal sanction of the loan for the farmers.
Lead district manager Gopal Lama urged the concerned branch managers to encourage entrepreneurs with subsidised loan to ensure their sustainable livelihood.
Agriculture joint director T.N. Bhutia, in his welcome address, informed that the department has scrutinised a total of 1,042 applications for loan, out of which 479 applicants have sought loan for dairy farming under Dairy Entrepreneurship Development Scheme, 240 for KCC, 135 for goat farming, 94 for piggery, 52 for bee farming and 42 for poultry farming.