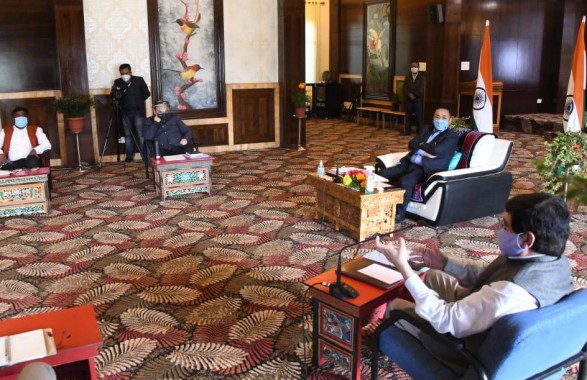 Wednesday, Sep 30, 2020 09:15 [IST]
Last Update: Wednesday, Sep 30, 2020 03:41 [IST]
Presentation made for establishing cancer hospital in Jorethang
SE Report
GANGTOK: Chief Minister P.S. Golay on Monday attended a presentation made regarding establishing a cancer hospital proposed at Jorethang, south district.
A State government social media post informs that the presentation was also attended by the chief secretary and senior officials.
During the presentation, they showcased the work they have completed at national and international level, also presenting the current projects they have in the pipeline.They also presented the plan for the upcoming hospital with further plans to extend it, the social media post informs.
It was further shared that the proposed cancer hospital will cater to people from neighbouring States and countries such as Nepal, Bhutan, Bangladesh, etc. It will have world-class treatment facilities like traditional cancer treatment including surgery, chemotherapy, radiation therapy and the latest methods like Proton therapy which is an advance method of treating cancer abroad. It will provide world-class patient care with more than 500 beds, 10 or more medical departments, multi-speciality and super-speciality department, patient relative accommodation and many more.
The Chief Minister directed the officials to conduct Request for Proposal(RFP) for the project. He also added that there should be an integration of insurance schemes so that everyone in Sikkim can avail the services of the hospital with minimum hassle. He also emphasised on providing the best medical facilities to the Sikkimese people and to make Sikkim a medical hub.