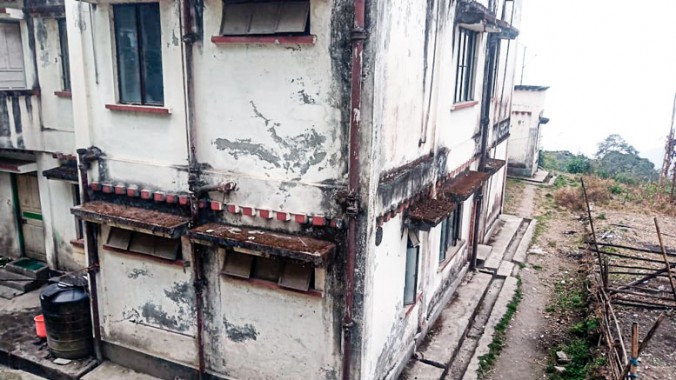 Friday, Feb 14, 2020 14:30 [IST]
Last Update: Friday, Feb 14, 2020 08:46 [IST]
PUBLIC ASSET COMING APART
KUSH HANG LEEWANG
GEYZING: The community hall at Geyzing is degrading gradually due to lack of maintenance.
Built in 1997, the community hall serves as an important landmark in the district headquarters of West Sikkim. It also houses a public library besides hosting public events and functions.
The condition of the community centre is aggravating day by day and is awaiting an urgent renovation. Window panes have broken down at few places, some of the chairs inside the hall are damaged or missing, the GCI roof of the building has started rusting, seepage during rainy seasons has damaged the walls and electrical equipments and lighting system installed in the centre does not work properly.
The centre also lacks water supply.
Likewise, the untidy surroundings outside the community hall, damaged walls covered in dust and dirt reflect the ugly face of the community hall. The water fountain constructed near the centre as part of bazaar beautification initiative is non-functional since many years and has become a breeding centre for mosquitoes. The equipments and machineries installed at the fountain have been damaged completely.
People opine that the State government should look into the matter to save the public infrastructure from falling into complete aggravation. "Renovation of the community centre is necessary and availing the facilities required in the centre must be done to preserve importance of the centre," a local said.