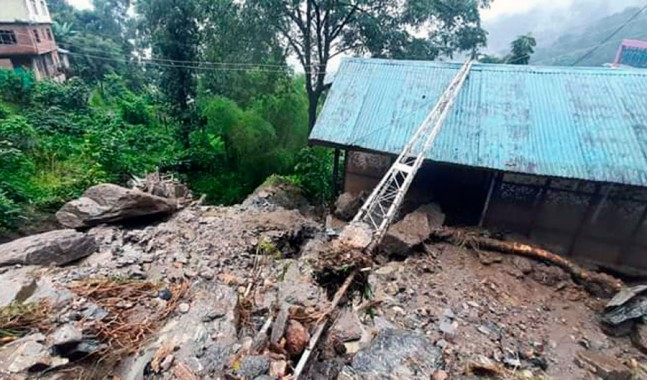 Monday, Jul 13, 2020 12:45 [IST]
Last Update: Monday, Jul 13, 2020 07:00 [IST]
Rain disrupts connectivity in West Sikkim
KUSH HANG LEEWANG
GEYZING: The incessant rain of Sunday triggered landslides in various places of West Sikkim disrupting normal life in the district. Traffic at various stretches of roads has been disrupted due to landslides triggered by the heavy downpour.
Pelling-Yuksam state highway has become inaccessible as a major portion of the road has been swept away by a landslide at Famrong falls. Locals informed that the road restoration work may take a week or more. "The landslip is massive and increased volume of water flowing through the stream may create hindrance to road reconstruction work," a local said.
However, another route connecting Yuksam Tashiding, via Legship, is open.
Similarly, due to landslides, properties were damaged at Lower Pechrek village under Geyzing Bermiok constituency. Poultry farm, milk collection centre and a vehicle of T.B. Chettri were damaged in the landslip. An electricity pole was also uprooted.
Concerned BDO and panchayat members visited the landslide-hit areas and assessed the damages today.
The road that connects Geyzing with Sakyong and other nearby villages was also blocked near Yangtey SSB camp due to massive landslip. The removal of accumulated mud, slush and debris at the road site was in progress till this report was filed.
Bina Rai, a resident of Sakyong, is living in constant fear of a natural calamity as massive landslides were witnessed nearby her house today. It was informed that the neighbours rushed to her rescue today as landslips were reported to be a massive and nearby her house.
Pelling helipad is unreachable due to mud slips near Norbu Gang resort. Narayan Khatiwada, local businessmen, informed that landslip was massive and clearance may take time.