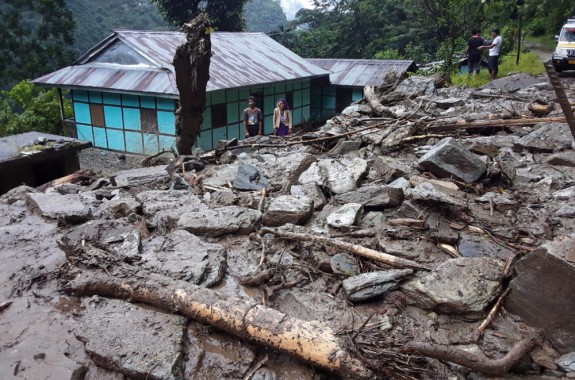 Tuesday, Sep 08, 2020 12:45 [IST]
Last Update: Tuesday, Sep 08, 2020 07:19 [IST]
Rain wreaks havoc in West Sikkim
KUSH HANG LEEWANG
GEYZING: The torrential rain of Sunday night wreaked havoc in different parts of West Sikkim, damaging public and private properties.
The rain triggered many landslides which damaged houses, cultivable lands and fruits orchard at Lower Yangtey, near Geyzing. Two domestic oxen of Chabilal Bista of Lower Yangtey were killed and a cattle shed was swept away by the landslides along with more than a hectare of paddy field.
Geyzing BDO Mukesh Dahal, zilla panchayat Roshan Khatiwada and panchayat members today visited the landslide-affected areas and met the affected families. It was informed that the team took stock of the damages and essential food items were provided to the affected families. The landslide victims will be compensated after assessment of damages as per the government norms.
Roshan Khatiwada informed that almost one kilometre of cultivable lands of the farmers of Lower Yangtey were damaged in landslides. He added that orange orchard and ginger fields of eleven farmers of Lower Yangtey were washed away, incurring heavy loses to the farmers.
"Many residents of Lower Yangtey have suffered the brunt of natural calamities. We are hopeful that the district administration will come up with a positive initiative to address the issue pertaining to natural calamities," Khatiwada said.
Considering the threat of further landslides, nine families of Lower Yangtey have been shifted to a safer location. The locals share that if rainfall continues the villages of Lower Yangtey face possible threats of flash flood and landslides.
Similarly, landslides in Yuksam-Tashiding constituency have resulted in road blockages at various places, causing traffic disruption. Farmers have lost their crops and many houses face risk of a collapse. Three families of Labing and two from Lasso have been shifted to safe locations.
Two State highways connecting Yuksam-Tashiding constituency with rest of other constituencies of west district are blocked at some places. Legship-Tashiding road is blocked as the stretch of road near Rangit river dam site has been washed away in landslide and the other route, Pelling-Tashiding State highway, has been blocked near Famrong falls. It was informed that Legship-Tashiding road restoration work may take time considering the severity of damages.
Geyzing-Jorethang road via Legship which was also blocked at various points was restored in the evening by the concerned department.
Landslides were reported from other places as well.