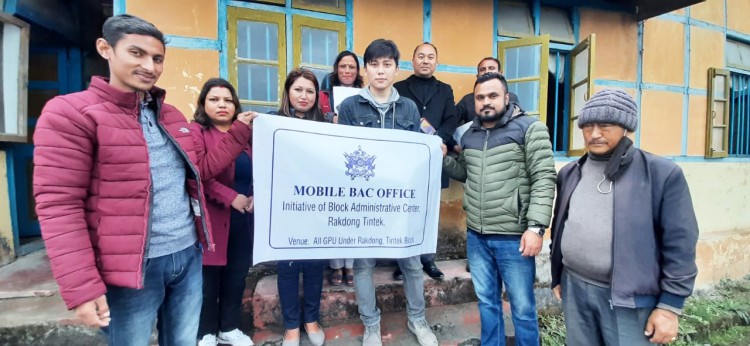 Wednesday, Mar 03, 2021 08:00 [IST]
Last Update: Wednesday, Mar 03, 2021 02:25 [IST]
Rakdong-Tintek BAC reaches out to all GPUs
GANGTOK,: A four-day mobile BAC drive was conducted by Rakdong-Tintek BAC in all the four GPUs under Rakdong-Tintek block. The drive commenced from February 24 at Samdong Kambal GPU and concluded at Tumin GPU on March 1.
This drive was carried out as some GPUs are located at a far distance from the BAC and the general public often face a lot of difficulty to reach the BAC for their official works. The farthest GPU of Patuk Singbel is around 27 km from the BAC and the nearest GPU of Rakdong-Tintek is around 8 km.
During the four-day drive, the services which are normally rendered from the BAC were carried out from the respective GPUs. A total of 117 different certificates were issued from all the GPUs and applications pertaining to various schemes under Rural Development department were received by the team from BAC led by the Rakdong-Tintek BDO and comprising of Panchayat Inspectors, staff from the Certificate section, MGNREGA functionaries, JEs, Revenue Surveyor, and other staff.
The BAC Rakdong-Tintek plans to conduct such drives at regular intervals for the benefit of the general public at large, it was informed.