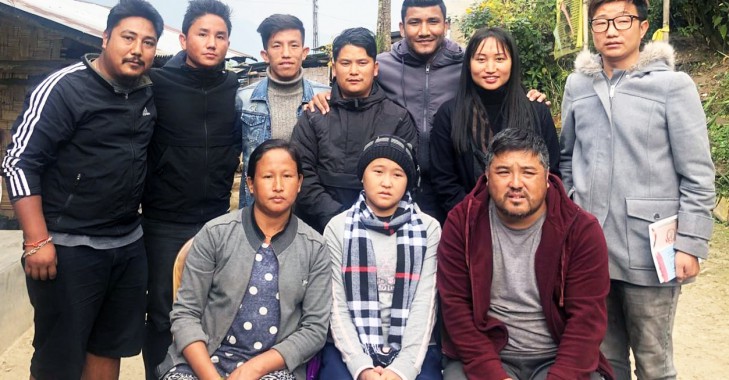 Sunday, Jan 10, 2021 07:30 [IST]
Last Update: Sunday, Jan 10, 2021 01:52 [IST]
Reeya Lepcha, 16, loses battle to tumour
SAMIR NUGO/KUSH HANG LEEWANG
GANGTOK, January 9: A talented young footballer who represented Sikkim at national level has lost her battle with brain tumour.
Reeya Lepcha, 16, died on January 8, while she was on her way to home with her family by her side.
In a rare and challenging occurrence, she was discharged from hospital to home for end of life care. Reeya, herself, had preferred to be cared for and die in her usual place of residence. Unfortunately, she passed away before she could reach her Dentam home in West Sikkim.
Reeya was undergoing treatment at Central Referral Hospital here before her untimely passing at the age of 16 yesterday.
The young footballer who had been a member of Dentam Girls Football Academy was diagnosed with the deadly illness two years ago, and underwent first surgery on October 28, 2019 in Delhi.
PROVED HER METTLE
Expressing shock over sudden demise of Reeya, her coach Arpan Lepcha said Sikkim has lost a "tremendously-talented and naturally-gifted" woman footballer.
The right winger had proved her mettle and was revered by opposition teams.
"She was known for her speed, ability to score in a testing situation and also for her patience in the field. She was a football talent worth to watch," she said.
Lepcha added that Reeya's sudden death has left a deep void in women's football in Sikkim.
Dentam Girls Football Academy has mourned her demise.
The Academy said: "We are saddened to hear that Reeya Lepcha has passed away following a battle with brain tumour."
"Reeya Lepcha had joined the academy in 2017 and she never looked back after that. With her football talent, she received recognitions and drew appreciations from each and every corners of the country."
Football Players Association of Sikkim were shocked by the untimely demise of the young footballer.
"We are shocked upon hearing the news of her untimely death. It's a huge loss to the entire State. We won't find a fine player like her often," said FPAS general secretary Nim Tshering Lepcha.
Nim Tshering said Reeya was a young girl with a massive heart and passion for football.
"The last time I met her, I remember her having told me that she wants to get well soon and be back on football pitch, wearing Sikkim team jersey".
She loved football so much. She was full of energy,"
Nim Tshering said the FPAS tried to help Reeya and her family with her treatment and were in touch with the family.
The FPAS had raised Rs. 4 lakh for Reeya's treatment through a donation collection drive in Gangtok and other parts of the State.
Along with footballers, students, press and public had also launched campaigns to raise funds for the treatment of Reeya.
Sikkim Democratic Front also reacted to her death. In a statement, the party said Reeya was a talented a talented footballer and her death is a huge loss for Sikkim as well as the country.
"SDF mourns the sad demise of talented Reeya Lepcha who represented Sikkim at national-level tournament. President Pawan Chamling and the party express their heartfelt condolences to the bereaved family and pray that god gives strength to the family to bear the grief and pain," the statement reads.