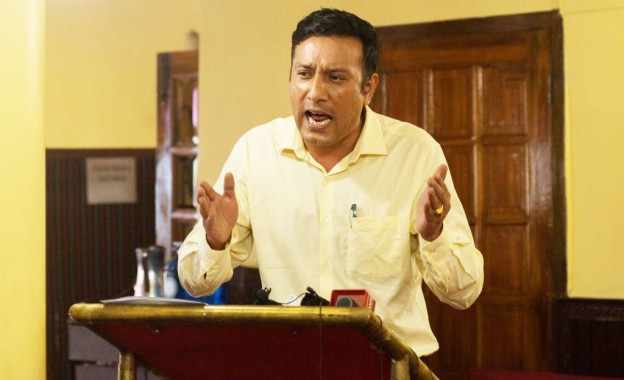 Saturday, Sep 25, 2021 07:45 [IST]
Last Update: Saturday, Sep 25, 2021 02:15 [IST]
Reopen senior school classes immediately: SNS
BIJOY GURUNG
SNS to file complaint against Education ACS in Ministry of Personnel
GANGTOK,: Sikkimey Nagarik Samaj (SNS) on Friday demanded that school classes of IX and above should be "immediately" reopened in the State as board exams are approaching. It also announced to file a complaint with Ministry of Personnel against Sikkim Education additional chief secretary G.P. Upadhyaya for his alleged incompetence and irresponsibility.
Addressing a press meet here, SNS spokesperson Passang Sherpa pointed out that the Education department had earlier announced to resume school classes (XI and above), colleges and universities from September 6. Again a circular was issued on September 11 stating that all educational institutions shall remain closed in the State, he said.
"The Education department cited rise in Covid cases for closing down the educational institutions but on the same day, the Home department issued its Covid management guidelines wherein it announced more relaxations stating that Covid cases are on a decline in Sikkim. Education department says 'Covid cases increased' and Home department says 'Covid cases declined' on the same day in their respective notifications," said Passang.
"Two days later, the Education department hurriedly issued a notification on September 13 stating that colleges and universities can resume classes. The department did this because there was a buzz in social media that college students could protest with the demand for resumption of their classes," said the SNS spokesperson.
"The opening and closing of educational institutions in Sikkim have become a farce under the Education department and its additional chief secretary. Both have displayed gross incompetence, irresponsibility and ignorance. No disciplinary action has been taken against the Educational additional chief secretary despite widespread criticism from many. As such, the SNS meeting today decided that it will file a complaint in the Ministry of Personnel against Upadhyaya for his gross incompetence and irresponsibility that have put the future of our students at stake. We also demand the State government to take action against him," said Passang.
"Our other demand is that the government must immediately reopen schools and allow classes 9 and above to be conducted. Many parts of Sikkim, especially the rural and remote areas face internet connectivity issue and our students are unable to attend their online classes. Their education is suffering. To hide such issues, the Education department is busy with whimsical and irrational circulars. We can easily maintain social distancing in schools as classes 8 and below are closed. Students from class 9 to 12 can be spread in other vacant classes to ensure social distancing," said the SNS spokesperson.
Passang contended that there is still time for completion of syllabus for students appearing for board exams next year by having classes in winter months also.
"Presently, almost all activities are allowed to take place in Sikkim. Only the schools are closed which shows incompetence of the Education department," said the SNS spokesperson.
To a question, Passang asserted that the authorities can place a school under containment if there are Covid cases reported from the particular school or area. However, schools in other areas and districts can be allowed to have their classes and the Education department should be exploring such options instead of shutting down all the schools across the State, he said.
Passang further informed that the SNS has submitted a memorandum to the Chief Minister's Office regarding its demand for inclusion of Article 371F and its special provisions for Sikkim in the curriculum of schools here. Our coming generation must be well versed with the special Constitutional provisions of Sikkim given by Article 371F and for this, this subject must be included in the school text books here, he said.