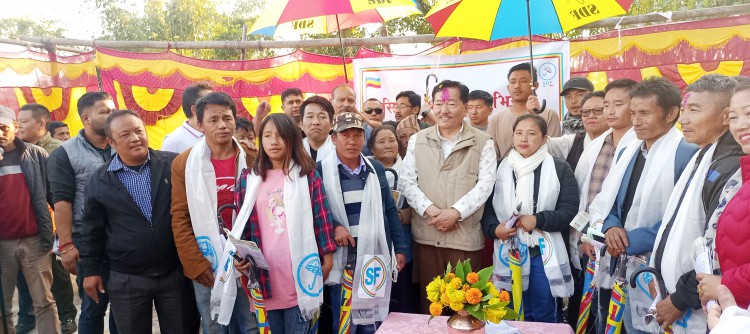 Friday, Dec 02, 2022 09:15 [IST]
Last Update: Friday, Dec 02, 2022 03:32 [IST]
Response from public more than expected: Chamling as he takes 'Save Sikkim' campaign to Rhenock constituency
AJAY THAMI
PAKYONG,: Former Chief Minister and SDF president Pawan Chamling on Thursday toured Lossing, Pachak and nearby villages under Rhenock constituency as part of his ongoing 'Sikkim Bachao' campaign.
Accompanied by SDF workers, Chamling interacted with the local public and shared with them why he is undertaking the campaign.
In the morning hours, Chamling and his team reached Lossing village where two local villagers joined the SDF and hoisted the SDF flags at their houses. This was followed by an interaction with the local gathering after which the SDF campaign toured Pachak village.
During a short public interaction programme at Pachak, 16 persons from Yuksam-Tashiding constituency, West Sikkim joined the SDF officially. Among them was Anzela Rai who recently lost the gram panchayat election by a single vote.
Speaking with the media, the SDF president said he is visiting various places under the 'Sikkim Bachao' campaign after the public sought his tour. I am getting a good response, more than what I had expected, and this has excited us to continue with our campaign, he said.
Chamling maintained that people are dissatisfied with the present government as their requirements and promised development have not been delivered. People are determined to bring the SDF back to power in 2024 to fulfil their aspirations, he said.
"People have urged me to lead and save Sikkim as all public in both rural and urban areas have lost their hope and sources of income. They believe that only SDF party can bring back prosperity in Sikkim," said the former Chief Minister to media.
Chamling had started his campaign from Rongli bazaar under Chujachen constituency on November 28. The following day, police arrested five persons from the SDF carcade at Rongli after alleged sharp weapons including a khukuri was recovered from their possession.
In his public address at Pachak, the SDF president raised the issue and maintained that the SKM government is against the Nepali community. "The present government is against Nepali community. Keeping a khukuri is our identity and every house has a khukuri. However, they arrested my security guards on pretext of keeping a khukuri."
Chamling pointed out that the ruling SKM has been repeatedly accusing the past SDF government of "looting Sikkim" for 25 years. "But they have not shown any proof even after coming to power and running the government for four years. It is just a baseless allegation as they want to make political gains," he said.
Chamling asserted that all developmental works in Sikkim was done under the SDF government which, he pointed out, includes comprehensive road network, new STNM Hospital and globally recognised Organic Sikkim status. We challenge the SKM government to do developmental works more than our government and only then we will believe that they are doing well but unfortunately, Sikkim is regressing under them, he said.