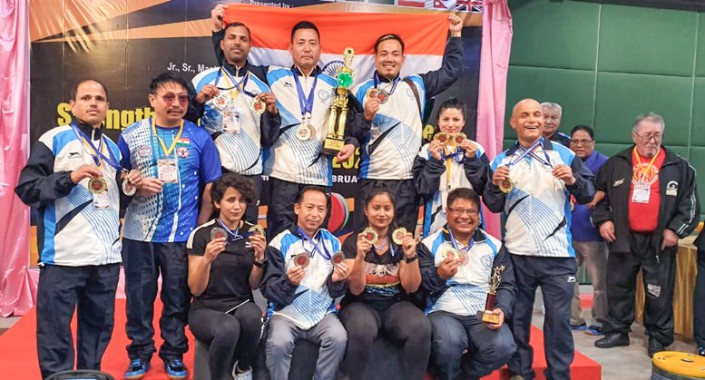 Sunday, Feb 16, 2020 13:00 [IST]
Last Update: Sunday, Feb 16, 2020 07:31 [IST]
Rich medal haul for Sikkim strength lifters
SE Report
GANGTOK: Sikkim strength lifters won 22 medals among them in the 8th International Strength Lifting & Inclined Bench Press Championship held at Bangkok, Thailand recently. As many as 12 athletes from Sikkim were part of the 67-member India team for the championship.
The Sikkim players won 17 gold medals, 4 silver medals and a bronze medal.
Pema Dorjee Bhutia was adjudged as the champion of champions in masters' category, while another strength lifter from Sikkim, Pempa Tamang, lifted the highest weight of 252.05 kg in inclined bench press in masters' category.
Chandra Kumar Chettri, Pema Dorjee Bhutia, Ram Dhoj Rai, Pempa Tamang, Santosh Gupta, Madhu M. Majhi and Manisha Tiwari bagged two gold medals each, while Homnath Siwakoti, Kalpana Chettri and Bhim Raj Gurung won one each of gold and silver, and Kishore Dungmali Rai won a silver and bronze medal apiece.