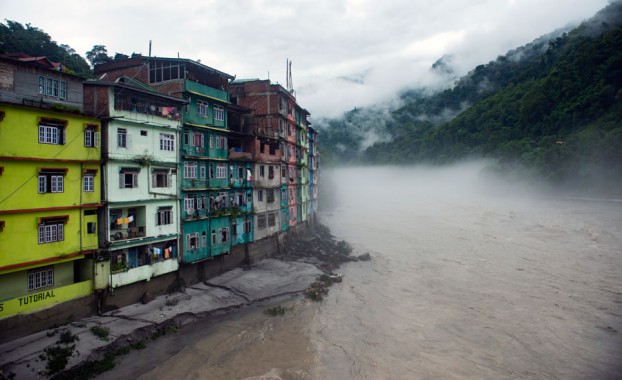 Sunday, Jul 12, 2020 10:30 [IST]
Last Update: Sunday, Jul 12, 2020 04:49 [IST]
Rising Teesta put Singtam localities on edge
KUNAL RAI
GANGTOK: Riverside settlements like Aadarsh Gaon, Singtam Lall Bazaar and Golitar in Singtam area have been put on high alert as water level of Teesta river has heavily increased owing to incessant rainfall and release of water by various hydro power project dams upstream.
The release of water by Dikchu-based NHPC dam Friday afternoon has triggered fear amongst the residents living in Aadarsh Gaon, Golitar and other areas of Singtam town.
A local police official said people have been alerted about the water released from the NHPC dam and asked to stay alert.
The official said, "We visited every nook and corner of our designated area and informed the general masses regarding the alert. We told them to be prepared and to keep their valuable items and documents in safe places too. The discharge of water lasted for few hours and subsequently subsided. The discharge was not that heavy compared to last year though, but safety and security of every citizen is of utmost importance."
The police have been patrolling the area since Friday night.
Aadarsh Gaon Kalyan Samaj joint secretary Phurba Tamang said the rise in river level has become a yearly affair while the demand for construction of protective wall along the river bank side has been long pending.
In his recent Singtam visit in the aftermath of a major fire incident, Chief Minister P.S. Golay had inspected the riverside areas and assured to do the needful at the earliest.
"We are very hopeful that the current government will definitely look into our request and begin the construction work with priority availing relief to around 200-250 families living here," added Tamang.
According to Tamang, hooters have been installed in several places downstream of the dam through which local residents are alerted of water release from the dam. However, the lack of protective walls along the river site cause sense of insecurity and fear every monsoon among the residents, he said.
A senior NHPC official informed that torrential rains in North Sikkim has increased water level of Teesta river following which water from the dam site has been released.
"But, we make sure to inform the masses leaving downstream prior to the release. We have formed a WhatsApp group involving State and district administration along with people settled downstream through which we inform them in advance. Similarly, there are about seven alarms installed starting from Dikchu till Rangpo which alerts the people regarding discharge of water from the dam. We also conduct awareness, meetings before the onset of monsoon," added the official.
East district collector Raj Yadav said the district administration has been continuously monitoring the dam water discharge and NHPC has been updating every two hours. "Yesterday the release was heavy and we in coordination with south district administration took proactive initiative and did miking to aware the local population with respect to release. The south district administration also issued notice to the population residing in Aadarsh Gaon to vacate vulnerable houses and shifted them to safer places," he informed.