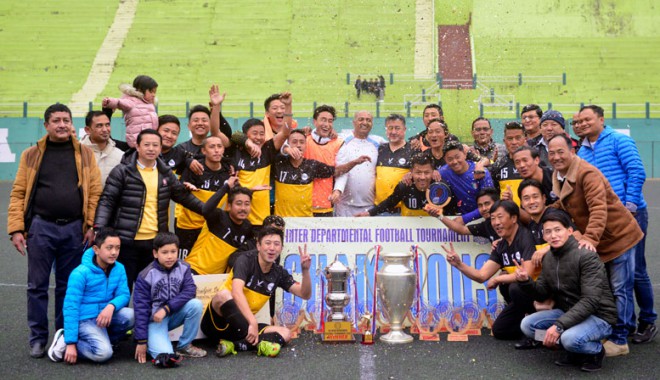 Sunday, Feb 16, 2020 12:45 [IST]
Last Update: Sunday, Feb 16, 2020 07:18 [IST]
Roads & Bridges wins inter-department football tournament
KUNAL RAI
GANGTOK: Roads & Bridges department defeated Sports & Youth Affairs department to lift the 7th edition of inter-department football tournament organised by Boys Club, Gangtok.
In the final played today at Paljor Stadium here, the Roads & Bridges department overcame a strong performance from the defending champions and won the match 4-2 in penalties. Both teams were levelled at 1-1 at the end of stipulated time.
"This is the first time that our department won the inter-department football tournament which is a moment of pride for the entire department. Our boys and worked hard not only during matches but even during practice session which has eventually paid off today. We are hopeful of defending the title next year," said Roads & Bridges secretary and player T.P. Shangderpa.
Sports secretary Kuber Bhandari said, "Losing and winning is part of the game. Our players played well and displayed their skills to their optimum. We hope to come back stronger in the next edition of the tournament."
Transport minister Sanjeet Kharel gave away prizes to the winning and runners up teams.
The tournament organised by Gangtok-based Boys' Club started on January 2 and had participation of 24 teams. The matches were played during government holidays only, informed Boy's Club general secretary Nima Thendup Bhutia.
"The idea of holding the inter-department football tournament is to bring about good interaction and relation between departments along with engaging them in a sporting activity," added Bhutia.
Formed in 1983 by like-minded footballers, Boys' Club engages in social causes as well besides organising football tournaments and workshops.
"We, being a one of the oldest football clubs in the State, extended some financial help to a promising woman footballer Reeya Lepcha, who was diagnosed with brain tumour, for her treatment," said Bhutia.