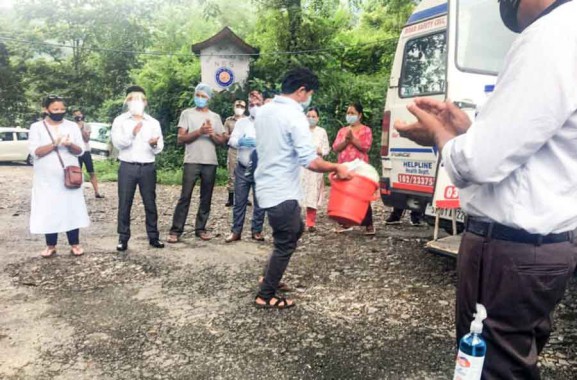 Friday, Aug 07, 2020 14:30 [IST]
Last Update: Friday, Aug 07, 2020 08:47 [IST]
Rongli subdivision achieves zero Covid status
Staff Reporter
GANGTOK: All active Covid cases in Chujachen Covid care centre, Rongli subdivision in East Sikkim have tested negative in two consecutive RT-PCR tests in 24 hours, informed east district administration on Thursday.
The final four remaining patients lodged at the Chujachen centre were discharged on Thursday.
A brief send-off was organised by the local authorities in presence of Rongli SDM Samdup Bhutia, medical officer in-charge Dr. T.N. Sherpa and others.
Similarly, all active cases of Covid-19 in GREF camp near Rongli bazaar have also tested negative earlier and successfully recovered from coronavirus.
With this milestone, Rongli subdivision has turned the corner and achieved zero Covid-19 active case as on Thursday (August 6). All stakeholders including the public of Rongli subdivision are geared toward maintaining this status in future, informed the east district administration.
Rongli was the first Covid hotspot of Sikkim after multiple positive cases were detected at the GREF camp near Rongli town in first week of July. The contagion also spread among the local community in the subdivision, mostly workers and their contacts of the GREF camp.
As a preventive measure, the district administration put Rongli bazaar under containment while the entire Rongli subdivision was placed under lockdown in July. It was informed that the administration plans to lift the containment order of Rongli bazaar next week.
The first Covid-related death in Sikkim was also reported from Rongli bazaar. A 67-year-old person with history of diabetes and hypertension had succumbed to coronavirus at STNM hospital on July 26.