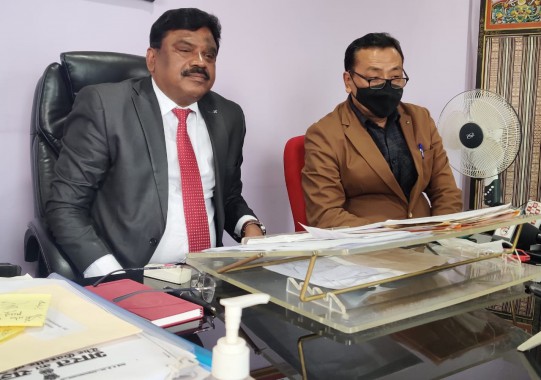 Wednesday, Mar 03, 2021 08:00 [IST]
Last Update: Wednesday, Mar 03, 2021 02:29 [IST]
RTPCR negative certificate requisite for Sikkim visit from Covid-hit States
GANGTOK,(IPR): The Health department called a press conference today in view of the Covid vaccination campaign drive being carried out nationwide.
The press conference was chaired by Health principal secretary K. Srinivasulu, PDHS-cum-MD NHM Dr. T. Yamphel and director RCH-cum-State Immunization Officer Dr. Phumzay Denzongpa.
Srinivasulu stated that the Covid vaccination drive 2.0 for citizens aged 60 years and above has started on a war footing in Sikkim.
In the first phase, the eligible 60 years and above citizens are being identified, ensuring that no Sikkimese will be left behind in the vaccination process.
Srinivasulu also raised the ongoing phenomenon of vaccine hesitancy that has gripped many and gave forth his assurances that the vaccines being produced by the Serum Institute and Bharat Biotech are absolutely safe and effective and hence asked the people to come forward and get themselves vaccinated to strengthen the State's fight against Covid -19.
Elaborating on the strategy adopted by the State towards the vaccination process keeping in mind the various challenges that arise considering the State and its geography and connectivity, it was informed that the process is being completely decentralized. The district task forces have started on micro planning for smooth functioning of the vaccination process in all four districts of Sikkim through the district hospitals, primary health centers and sub centers which are being equipped with effective and adequate infrastructure, manpower and planning of a successful public vaccination drive covering both rural and urban Sikkim.
It was further informed that those patients who are within the age group of 45 to 59 with co-morbidities will be identified according to the 20 different diseases identified by the Government of India which is being widely publicized. Such patients would be required to take out health certificates according to the format prescribed by the Government of India.
Through the Directorate of Panchayati Raj, village level rural development workers and ASHA workers would be aiding the people in the rural areas for online and offline registration in the vaccination process.
Keeping in mind the various mutant viruses emerging from foreign countries being found in many States in the country and the threat it poses to the people, it was informed that the travel restrictions for the people entering the State from these States will be put in place. It was also informed that RTPCR negative tests done within 72 hours will have to be produced by those coming to Sikkim from these States. This is being done prioritizing the health and wellbeing of the people of Sikkim, stated the Health principal secretary who solicited co-operation from the public in this regard.
A mechanism is being deliberated with the State administration for effective implementation and enforcement of this travel restriction, he added.