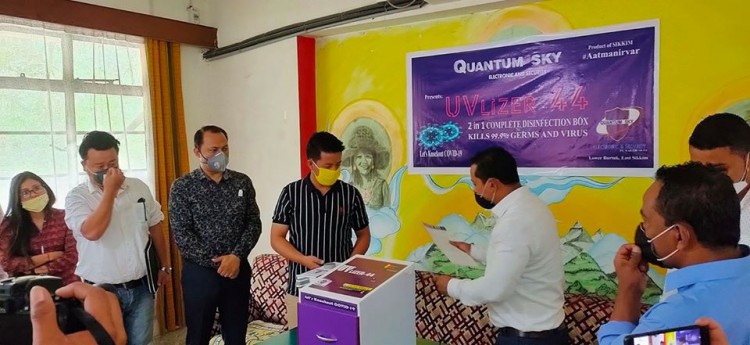 Thursday, Jun 04, 2020 13:45 [IST]
Last Update: Thursday, Jun 04, 2020 08:06 [IST]
Sanitizer device launched at Rangpo screening centre
SANJAY AGARWAL
RANGPO: Lok Sabha MP Indra Hang Subba launched a UVC radiation and contactless dispenser device at Rangpo screening centre here today. Rangpo SDM Prem Kamal Rai, Rangpo SHO Keshang Bhutia, officials, SKM students wing functionaries and others were present on the occasion.
The device named UVLizer-44 has been produced by Quantum Sky, comprising of four youths from Sikkim working to provide innovative solutions to diverse issues faced by the people.
The developers informed that UVLizer-44 is a two-in-one UVC radiation and contactless sanitizer dispenser focused to aid the frontline warriors. It provides four-way disinfection through UVC radiation inside approximately 800 cubic inch chamber. It is capable of sterilizing various objects ranging from masks and medical equipment to packaged foods, vegetables and sizable electronic equipment. This device neither uses nor needs chemicals or water with speedy virus deactivation while performing low power consumption. One requires no special training to use this device and has atimer function for automatic sterilization and also equipped the device with a contactless automatic sanitizer dispenser to minimize contamination and maximise personal safety.
After the demonstration, the device was presented to the screening centre.
MP Indra Hang appreciated the developers for coming forth with the device at the local level and stressed on the need to be self-reliant in lines with Prime Minister Narendra Modi's Armanirbharta and vocal for local slogans. He added that similar devices would be installed in other establishments and public places too.