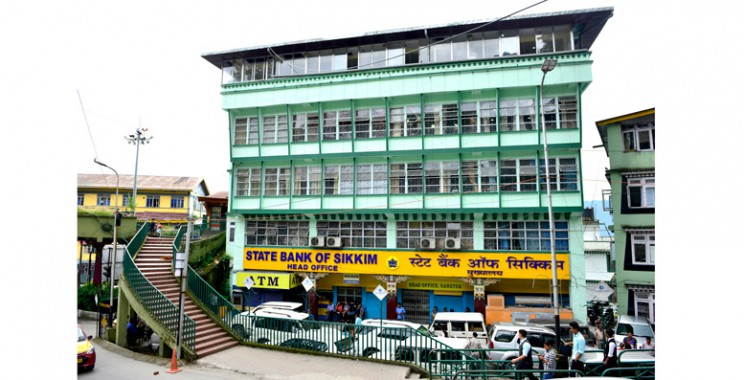 Sunday, May 31, 2020 15:20 [IST]
Last Update: Sunday, May 31, 2020 09:47 [IST]
SBS files police complaint against 10 major defaulters
KUNAL RAI & DICHEN ONGMU
GANGTOK: A case of cheating and other sections of the IPC has been registered against 10 persons who have allegedly defaulted on State Bank of Sikkim (SBS) loan repayment and utilised the loan for other purposes.
The case was registered at Gangtok Sadar police station on Friday following a complaint lodged by the SBS against the 10 alleged loan defaulters.The loanees had allegedly stopped paying the EMIs to the SBS and failed to repay despite several notices from the bank.
The loans had been been sanctioned from 2013 to 2015 with the highest loan amount being Rs. 5 crore and lowest amount being Rs. 30 lakh. The total loan of the ten persons amounts to around Rs. 17 crore.
According to SBS chief general manager P.W. Bhutia, a loanee can use the sanctioned loan for a specific purpose only and not for other activities without disclosing the fact to the bank. The bank keeps track of the burrower since day one of the disbursement of the loan and makes sure the amount is used for the stated purpose only, he said.
"We have lodged an FIR against the 10 persons. They are defaulters who have taken loans but used the money for some other unspecified purposes. The bank gives loan to create assets but it was not done in this case," said Bhutia.
Asked why a police complaint was made instead of using the Act for recovery of loans, the SBS chief general manager said there are two types of defaulters. Firstly, there are normal defaulters who cannot repay despite their best efforts, he said.
"Another is wilful defaulter, who deliberately do not return the loan or divert it to other work, no asset is created and do not disclose it to the bank. To find out where the money went, we have to file a police complaint," he said.
We have taken a legal course of action and will take help from the police and work on how to recover the loans, said Bhutia. He said the SBS will take stern action as per law against the defaulters.
"The fund made available by the bank must not be useful for the loanee only but for the entire society. We want the loans sanctioned by the bank to be used for socio-economic productivity," said the SBS chief general manager.