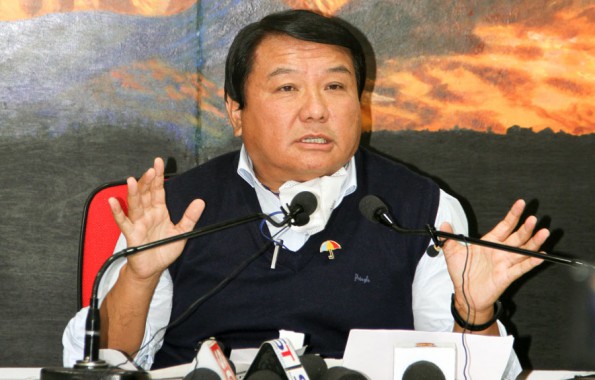 Monday, Aug 10, 2020 11:45 [IST]
Last Update: Monday, Aug 10, 2020 06:12 [IST]
SDF asks why delay in SERC report submission
CM busy making excuses while people are under economic burden: Subba
Staff Reporter
GANGTOK: SDF spokesperson M.K. Subba has said Chief Minister P.S. Golay is busy "making excuses" and "not taking responsibility" while people in Sikkim are struggling due to the economic meltdown induced by coronavirus pandemic.
"It is astonishing to see that the Chief Minister is busy making excuses and not taking responsibility on the economic revival front. The Government of India has already directed the States to use their State budgets to mitigate the economic hardships of their citizens. However, five months have gone by (since Covid pandemic) but the Sikkim government has failed to provide economic relief to the people," said the SDF spokesperson on Saturday.
It has been five months but the State government has even failed to announce Covid emergency fund, said Subba in conversation with media here. He asked the SKM government on when the State Economic Revival Committee (SERC) would be submitting its report.
The SERC had been constituted on May 14 with Martam-Rumtek MLA Sonam Venchungpa as its chairperson. The committee has been tasked to assess both long term and short term impact of the lockdown on all sectors of the State's economy after holding consultations with all stakeholders concerned. It is to suggest measures, interventions and strategies for revival of the State's economy, post lockdown.
Subba informed that the SDF had also submitted its views and suggestions to the SERC on June 9.
"The first week of August has also passed by and the SERC has not submitted its report to the State government on the economic hardships faced by the people of Sikkim. The financial woes of the people are increasing daily with rise in prices of fuel and essential commodities. A huge economic burden is there upon the people of Sikkim but the State government has not even asked the report from the SERC."
"At the moment, forget economic revival, it is a matter of economic survival for the people of Sikkim. The State government should be extending economic compensation at this hour but the Janta has been left waiting," said the SDF spokesperson.
Subba maintained that the SKM government also inordinately delayed in setting up the SERC while other States had already set up study team to assess the impact of coronavirus lockdown on the local economy.