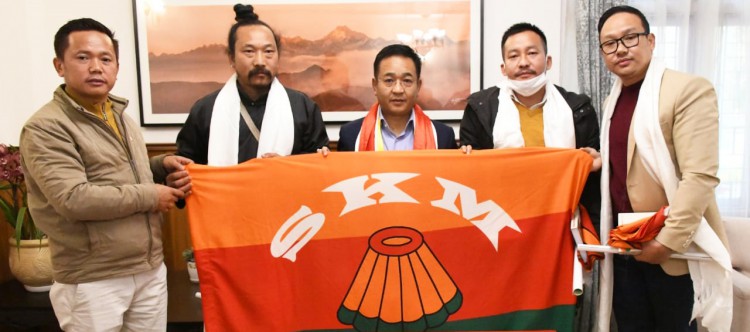 Friday, Feb 19, 2021 08:30 [IST]
Last Update: Friday, Feb 19, 2021 02:48 [IST]
SDF functionaries switch over to SKM, rules out Chamling returning to power
GANGTOK,: Three youth functionaries of opposition SDF on Thursday switched over to the ruling SKM maintaining the P.S. Golay-led party would stay in power for a lengthy term eclipsing the Pawan Chamling-led party in Sikkim.
SDF spokespersons Krishna Lepcha and Ashit Rai along with SDF north district president Tshering Gyatso Lepcha met SKM president and Chief Minister P.S. Golay wherein they were welcomed into the SKM party. They were offered the SKM flag as a formal induction into the ruling front.
Later addressing a press meet at SKM head-office here, Krishna Lepcha mentioned that the SKM government is gaining popularity due to its inclusive politics and offers the best political platform to youth to work for the people.
Lepcha was long associated with the SDF and served the party in various capacities. At present, the SDF party is fading away inside a dense fog and cannot work as an effective opposition, he said adding that it is a tough challenge for the SDF to return to power in 2024 elections.
"We gave our best years to the SDF but sadly, the SDF is now facing existential crises. The future of tomorrow's Sikkim is SKM. Given the political history of Sikkim, a party which falls from government cannot make a comeback to power. The SKM could go on for 50 years as it has a young and dynamic Chief Minister who has farsighted vision for Sikkim," said Lepcha.
He also claimed that there is no internal democracy in SDF and his former party is still governed by orthodox politics when a 21st century politics is needed.
Lepcha maintained that he had served SDF without any vested interests and would work in a similar manner for the SKM. Criticism and allegations would be made against me and I am ready to face them, he said.
In his statement, Tshering Gyatso Lepcha, also a Zilla panchayat from Dzongu, shared that he was inspired to join the SKM due to the focus and love given by Chief Minister P.S. Golay towards Dzongu. He spoke about a meeting held recently between the Chief Minister and panchayats of Dzongu.
"At the meeting, the Chief Minister told us that though SKM lost from Dzongu, the SKM government deeply loves and cares for Dzongu and will continue to work for the people of Dzongu. I was impressed and thought why not work staying in the mainstream and made my mind up to join the SKM to respect the love of our Chief Minister for Dzongu," said Tshering.
Ashit Rai, in his statement, mentioned that there is no future for youth in the SDF party. Youth should choose which party they want to support, whether it is a party like SKM where young minds meet or a party like SDF where only big people rule, he said. He said the SKM party struggled for eight years as an opposition and then came into power. I think the SKM government will go on for another 20-25 years, he said.
"I have no vested interests but I have joined SKM seeing the visionary leadership of the Chief Minister who has reached to another level. We also want to extend our helping hands in the Sikkim Nirman work. Criticism will be made against me but I am prepared," he said.
At the outset, SKM spokesperson Jacob Khaling shared that the three persons had met the Chief Minister in the morning. The Chief Minister offered them khadas and party flags and welcomed them into the SKM party, he said.
"They have joined SKM seeing our inclusive politics and democratic values. We welcome them," said Khaling.