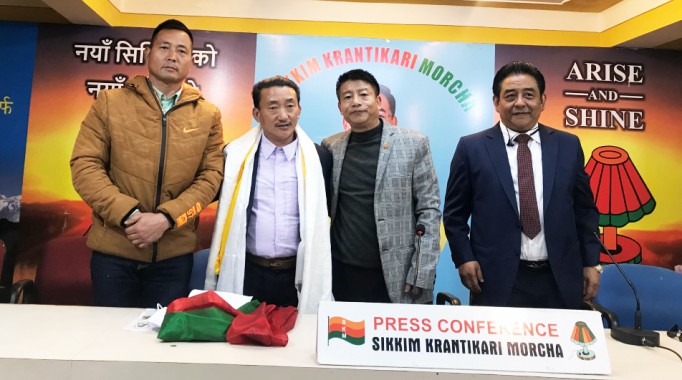 Tuesday, Feb 23, 2021 07:45 [IST]
Last Update: Tuesday, Feb 23, 2021 02:03 [IST]
SDF functionary Buddha Hang Subba joins SKM
DICHEN ONGMU
GANGTOK,: Buddha Hang Subba, a SDF functionary from West Sikkim has announced that he and several other SDF workers are joining the ruling SKM during a programme of Chief Minister P.S. Golay scheduled on Tuesday.
Buddha Hang is a SDF zilla panchayat and president of district working committee, Yuksam-Tashiding constituency.
Speaking to media here on Monday, Buddha Hang said he and hundreds of SDF workers are joining the SKM in presence of Golay during the programme at West Sikkim. He accused the SDF of ignoring the youth leaders and favouring only those who agree whatever party president Pawan Chamling decides.
"I gave my youth to the SDF but they never appreciated the sacrifices I made for the party. I chose to join SKM as it supports the young leaders and believes in them. SKM is a youth-friendly party and Chief Minister P.S. Golay is a big hearted and down to earth leader who believes in leading taking alongside all his supporters", said Buddha Hang.
Addressing the press meet, senior SKM functionary Ganden Lachungpa maintained that Chamling is not able to face the electoral defeat suffered in 2019.
"Chamling sold his cabinet ministers to BJP right after he lost the elections hoping he would get a constitutional post but his dream never came true. The person who kept boasting about his 25 years of rule failed to uphold the image of an opposition party leader just after one defeat", said Lachungpa. He welcomed the newly inducted party members who left the SDF.
He urged the SKM workers to welcome the supporters of the opposition parties and have no bitterness. We all are Sikkimese in the end and have to work collectively for the betterment of Sikkimese people and its society, he said.
SKM general secretary (headquarters) Pawan Gurung and SKM sports wing functionary Pema Dorjee Bhutia were also present at the press meet.