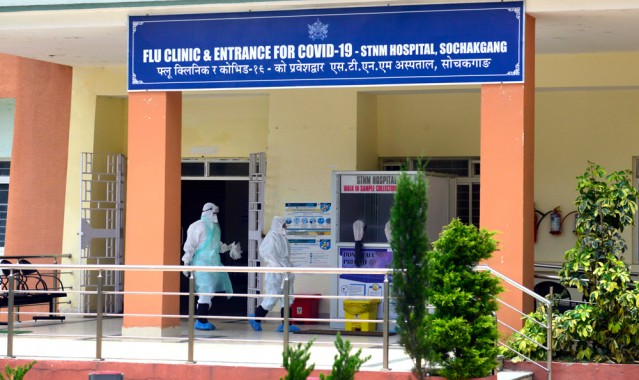 Thursday, Jun 04, 2020 13:45 [IST]
Last Update: Thursday, Jun 04, 2020 08:02 [IST]
Second Covid-19 case in Sikkim
Staff Reporter
GANGTOK: A 54-year-old person, who had returned to Sikkim from Delhi, tested positive for Covid-19 on Tuesday night and was immediately transferred to the devoted Covid-19 centre at STNM hospital here.
According to the Health department, the person was lodged in a government quarantine centre at Mining area, Rangpo along with other inmates. He shared his room with his daughter and a nephew, both of whom have tested negative.
It is the second Covid-19 case in Sikkim.
The person had gone to Delhi for medical treatment and was stranded there due to sudden announcement of national lockdown on March 25. He could return to Sikkim only on May 25 in a special train along with 856 other stranded Sikkimese.
It is the protocol of the Sikkim government that all returnees have to undergo 14-day quarantine in government or paid centres and be tested for Covid-19. During this routine testing of quarantined persons that the person was found infected with coronavirus though he was asymptomatic.
Health secretary and director generalDr.Pempa T Bhutia informed that the results came at around 11 pm on Tuesday night and the person was immediately transferred to the isolation ward in Covid-19-devoted centre, STNM hospital. The patient is well and has shown no symptoms, he added.
We have contained the particular facility quarantine centre and all the inmates there are being transferred to another quarantine centre where the contacts of Covid-19 positive persons are kept for observation, he said. The persons in the particular quarantine centre have tested negative and would be kept under observation.
Ten more contacts are staying in a hotel (paid quarantine centre) with the facility of attached bathrooms. They would be staying there.
Tracing of the primary and secondary contacts is going on and all will be tested, said Dr.Pempa.
The first Covid-19 patient of Sikkim had been reported on May 23. The 25-year-old from South Sikkim had also returned to his home State from Delhi. He is keeping well in the Covid-19 centre at STNM hospital.
Dr.Pempa informed that the first patient had fever and chills only on the first day and since then, he has shown no health problems. After 14 days in the hospital and following other routine tests, two RT-PCR tests would be done within 24 hours on the first patient. If both tests are negative, the patient would be discharged.