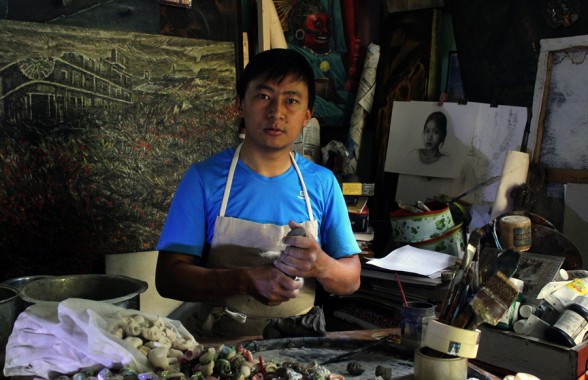 Friday, Jun 05, 2020 14:15 [IST]
Last Update: Friday, Jun 05, 2020 08:41 [IST]
Sewon Rai's ceramic dumplings ready to hang your keys
ISABELLA GURUNG
GANGTOK: Gangtok-based freelance artist Sewon Rai has been making heads turn with his new line of custom-made ceramic momo-shaped keychains. A painter by profession, ceramic art is his leisure pursuit.
"Although I have specialized in painting, I like trying out new sectors of art that are unconventional. I have also had various installation art projects. Although I have started making momo keychains seriously just recently, the main concept was initiated in 2017-18 where I made and displayed stone-ware ceramic dumplings for the annual art exhibition at Lalitkala National Academy. Momos have always been a part of the Sikkimese culture/cuisine and I wanted to portray it in the exhibition," expressed Sewon.
The 29-year-old from Lower Sichey, Gangtok is an alumnus of Tashi Namgyal senior secondary school, Gangtok. He opted for BFA specialization in painting from The Indian College of Arts and Draftsmanship, Kolkata (2010-14) and MFA in painting from Rabindra Bharati University, Kolkata (2015-17). He received the Lalitkala National Research scholarship in painting at Lalitkala National Academy, Kolkata from 2017-18, and then returned to his hometown to pursue a career in the world of art. He worked in various sectors, including as an assistant professor in fine arts at Loyola College of Education at Namchi, South Sikkim from 2018-19.
When he came back to his hometown, Sewon got involved in various other things and had almost forgotten about it. He got in touch with two famous ceramic artists from Sikkim, Anupa Rai (Ceramic Studio, Naitam) and Reena Rai (Maato Studio, Pakyong. "I had been in constant touch with Anupa and last year, I bought some clay and restarted my ceramic art journey at her studio itself. I created ceramic momos and posted them on social media. I never expected to receive so many positive feedbacks," he added.
With over 60 finished products displayed on social media, and receiving many positive feedbacks, Sewon at first gave away the keychains to his close-ones as souvenir. Later, he started getting orders (during April-May) and then started making momo-keychains commercially. The keychains are now on sale, priced at Rs. 150 per piece.
Creating the keychains may look easy but it takes at least 15-20 days to finish, as it takes a lot of time for the clay to dry, it was informed.
Sewon has also created wood keychains with a picture of Tongba, and briefing on Tongba carved on either sides.
Among Sewon's other recent projects is the ceramic poppy flowers that heis preparing for an art installation. The poppy series is dedicated to road accident victims. The poppy flowers that are red, resembles blood and aftermath, so it is used as a metaphor, said Rai.
"I haven't thought much about future, but I want to make our people aware of different forms of art, and its culture. I would also encourage emerging artists to do what they love and focus on it with their heart and urge their guardians to support their wards," said Sewon to SIKKIM EXPRESS.
Sewon has participated in various art exhibitions and workshops in Sikkim, West Bengal, Uttar Pradesh, Himachal Pradesh, Assam, Kerala and Bengaluru. He is also the recipient of five national awards.