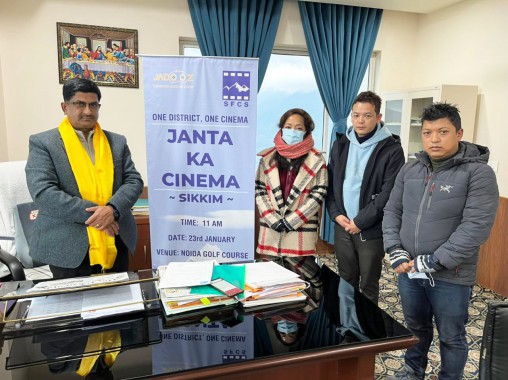 Saturday, Jan 22, 2022 08:15 [IST]
Last Update: Saturday, Jan 22, 2022 02:41 [IST]
SFCS push for 'Janata Ka Theatre' in Sikkim
GANGTOK,: Sikkim Film Cooperative Society (SFCS) and Jadooz Media Solutions private ltd are set to sigh a memorandum of understanding to create space for cinema in the State.
The agreement is being signed on January 23 at Nodia, informs a SFCS press release.
As per the agreement, one 'Janata Ka Theatre' would be established in every district of Sikkim in the first phase. The center would also be providing interactive education for students besides generating direct and indirect employment opportunities. The theatre space is envisioned to be an education, culture and entertainment hub for the district.
In a press statement, the SFCS said Chief Minister P.S. Golay has been promoting film industry as a big pillar of growth in Sikkim. Under his aegis and leadership, Sikkim's first cooperative in the sector of film and media, the Sikkim Film Cooperative Society Ltd in collaboration with Jadooz Media Solutions Pvt Ltd is all set to create a well-recognised space for cinema in Sikkim, said the cooperative.
The SFCS added that IPR minister Lok Nath Sharma upheld the Chief Minister's vision for introducing the scheme of 'One District One Cinema' and a film hub in the State. He on the behalf of the Chief Minister further assured the cooperative to lend all possible support from the government, said the SFCS.
Jadooz Media Solutions is an innovative concept of Padmashree Shobana, actor Rannvijay and Rahul Nehra to establish propagate and promote right and access to cinema as a means of entertainment and exposure to stay connected with the rest of the world, said the SFCS. They envisaged cinema miniplex which can multipurpose to aide as education hub, cafe and video conferencing for meetings and rural area manifestation and promotion, it added.
It was informed that Jadooz has established more than 15 cinema plexes and is in the process of adding 20 more including three in North East.