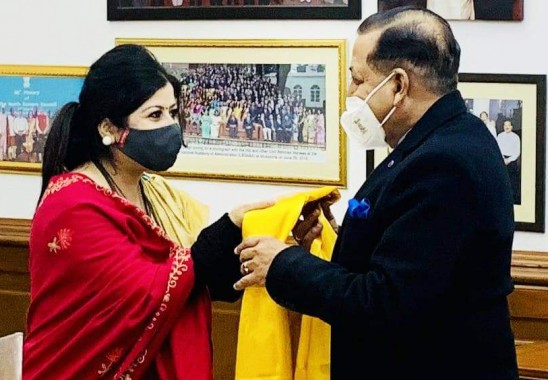 Thursday, Jan 21, 2021 07:15 [IST]
Last Update: Thursday, Jan 21, 2021 01:32 [IST]
SFPB chairperson calls on DoNER minister
GANGTOK,: Sikkim Film Promotion Board chairperson Pooja Sharma on Wednesday called on DoNER minister Dr. Jitendra Singh at New Delhi. She was accompanied by the Resident Commissioner, IPR joint director Bishal Khawas and other officials, an IPR release informs.
During the meeting, Sharma appraised the Union minister on the establishment of Sikkim Film Promotion Board (SFPB) and its various projects which are in the pipeline. She also discussed about eco-heritage film city, film policy and Sikkim Global Film Festival 2021 planned by SFPB to promote Sikkim as a shooting destination and enhance State tourism. She further mentioned about Chief Minister P.S. Golay's determination and keen interest in establishing a film industry in Sikkim.
During the meeting, the DoNER minister accepted the invitation to attend the Sikkim Global Film Festival in its inaugural ceremony scheduled to be held in the first week of April 2021, the IPR release mentions.