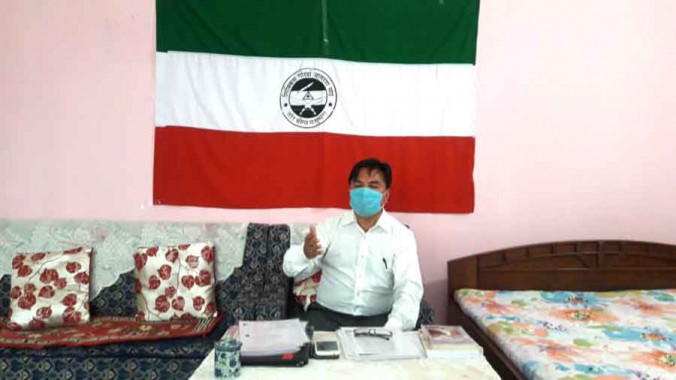 Thursday, Aug 06, 2020 13:30 [IST]
Last Update: Thursday, Aug 06, 2020 08:01 [IST]
SGJS protests Joshi's appointment as Additional AG
NAMO DIXIT
NAMCHI: The Sikkim GorkhaJagaranSangh (SGJS) has expressed its strong objection to the appointment of advocate Sudesh Joshi as the Additional Advocate General (AAG) by the State government.
In a meeting of the Sangh held at Namchi today, SGJS president Balbir Tamang said the appointment of advocate Sudesh Joshi is against the welfare and larger interest of the people of Sikkim, especially the Nepali-speaking Gorkha community.
Terming the appointment as being against the Bhutia, Lepcha and Nepali speaking communities of Sikkim, Tamang called on the State government to cancel Joshi's appointment else, he said, it would adversely affect the truth and future security of the coming generations of Sikkim.
Citing advocate Joshi's legal background, the SGJS president claimed that Joshi is also associated withAssociation of Old Settlers of Sikkim (AOSS), which has been advocating for income tax exemption for the business communities also. "It is for the people of Sikkim to understand the severity of the matter of Sudesh Joshi's appointment by the SKM government.The people who voted them to power have every right to question the government for taking this step and for undermining an equally educated and able local person who could have been appointed in that post," said Tamang.
Stating that GorkhaJagaranSangh is an association working in favour of Sikkimese people, Tamang said the appointment of Joshi is against the interest of the people of Sikkim and therefore highlights the anti-Sikkimese mindset of the State government.
"If the government fails to take immediate decision then public has the required potential to guide the leaders," said Tamang calling for a united voice of political parties against the move of the State government.