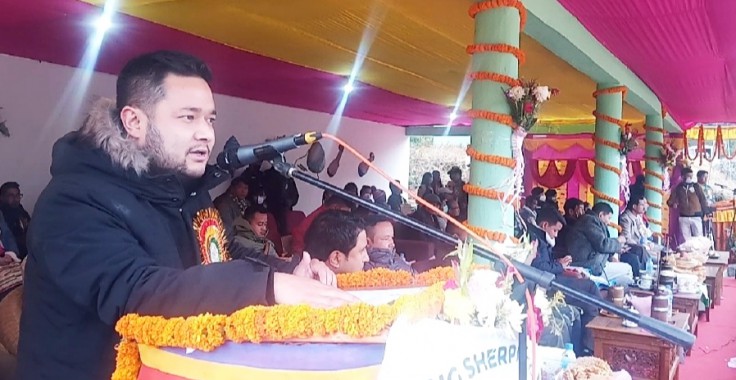 Friday, Feb 19, 2021 08:30 [IST]
Last Update: Friday, Feb 19, 2021 02:47 [IST]
Sherpa Losar celebrated at Uttarey
KUSH HANG LEEWANG
GEYZING,: The State-level celebration of Sherpa Gyalpo Losar was held at Uttarey under Maneybung-Dentam constituency today.
Sherpa Gyalpo Losar which marks the new year of the Sherpa community was organized by Denzong Sherpa Association (DSA). The event was attended by Soreng-Chakung MLA Aditya Golay as the chief guest and Lok Sabha MP Indra Hang Subba as the special guest.
Aditya Golay, in his brief address, said that community-based cultural festivals play significant role in promotion and preservation of distinct identity and the cultural heritage of communities. He added that it was good to see the Sherpa community coming forward for protection of their cultural identity. The new generation must be made aware and encouraged to work for propagation of culture and traditions related to various communities, he said.
Aditya maintained that SKM government would support all the communities of the State in their effort of promotion of culture and traditions. He asserted that issues and demands of Sherpa community would be given importance by the SKM government.
On the developmental promises of SKM government, the MLA maintained that West Sikkim would be given topmost priority in terms of development. He informed that many developmental initiatives have been sanctioned for ensuring comprehensive development of West Sikkim. The State government has constructive plans to develop various sectors of West Sikkim, he added.
DSA president Pema Wangchuk Sherpa informed that Sherpa Gyalpo Losar was celebrated to keep alive the culture and traditions of Sherpa community and also with an aim of spreading the message of brotherhood, unity and communal harmony. He shared that DSA being a frontal organization of Sherpa community has been working to revive and preserve the cultural heritage of the community.
Pema Wangchuk also expressed that Sherpas were hopeful that the State government will consider and work to resolve the issues raised by the community time and again. He added that Sherpa community would remain vocal on the issues related to the community.
Passang Sherpa, a member of Sherpa community, informed that the State-level Sherpa Gyalpo Losar celebration was held at Uttarey this year considering Sherpa's population concentration in the area and added that next year the festival would be held at another location.
The organizing committee also felicitated journalists K.N. Sharma and Pappu Malick along with other personalities for their contributions in various field of the society.
Cultural presentation and other activities were the part of the event.