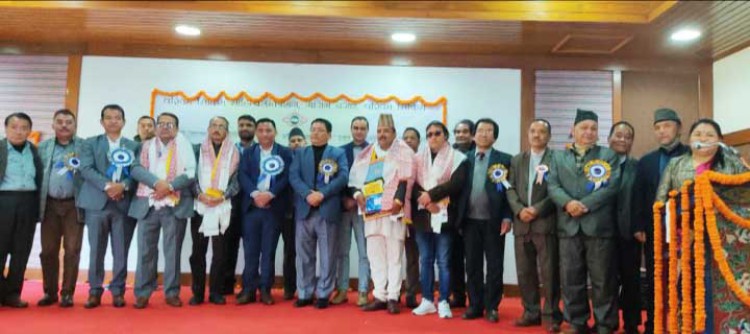 Sunday, Nov 28, 2021 06:00 [IST]
Last Update: Sunday, Nov 28, 2021 00:23 [IST]
Shrasta Purashkar to three Nepali litterateursShrasta Purashkar to three Nepali litterateurs
KUSH HANG LEEWANG
GEYZING,: Paschim Sikkim Sahitya Prakashan (PSSP), a literary organization of West Sikkim, presented Shrasta Purashkar 2021 to three Nepali writers on Saturday in a function held in Geyzing.
Ashok Rai from Dooars won the award in story writing category, Amar Bania 'Lohoro' from Gangtok in poetry and Indra Kumar Rai from Tikpur, West Sikkim in essay writing.
Shrasta Purashkar instituted by PSSP is given annually to emerging Nepali writers on the occasion of the birth anniversary of poet Bhanu Bhakta Acharya. However, this year the award function was postponed due to Covid pandemic.
Similarly, the prestigious Lal Man Sancharani Purashkar 2021 instituted by Padma Shri recipient B.B. Muringla, in memory of his late parents, was awarded to writer Yuwa Baral from Gangtok for his collection of stories.
The award function was attended by PHE minister Bhim Hang Subba as the chief guest and SIDICO chairman Janak Gurung as the special guest.
At the event, a collection of poems by Padma Shri recipient Kedar Gurung, titled 'Aafu Jastai Arulaai Khojdai', was released. Similarly, Laxmi Prasad Gurung's collection of stories 'Kehi Anubhuti Biwastaa Haruko' and six books authored by Jaideep Subba from Namchi were also released.
Speaking on the occasion, the SIDICO chairman expressed that "literature is a mirror of the society which reflects the economic conditions, culture, traditions of a certain community and help to unite and bind the people together." He maintained that development of literature and language is important to safeguard language and cultural heritage.
Gurung added that Nepali literature has flourished and the development of Nepali language has been ensured due to the people who dedicated their life to literature. He congratulated the awardees and encouraged them to continue to work for the development of Nepali literature.
The awardees expressed their gratitude to PSSP for recognizing their literary works and expressed that the award meant a necessary encouragement for them to continue their literary journey.