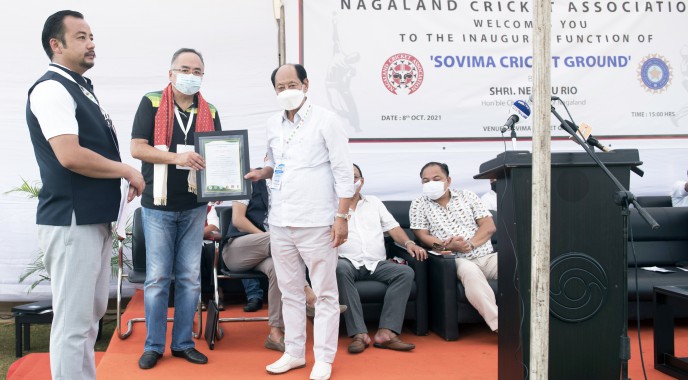 Wednesday, Oct 13, 2021 06:00 [IST]
Last Update: Wednesday, Oct 13, 2021 00:22 [IST]
SICA attributes NE cricket development to Nagaland CM
GANGTOK,: Sikkim Cricket Association (SICA) recently participated in the 7th conclave of Northeast Cricket Development Committee at Dimapur, Nagaland.
NECDC is a coordinating body of six NADP States of BCCI as members, namely, Arunachal Pradesh, Manipur, Meghalaya, Mizoram, Nagaland and Sikkim.
Along with the meeting, the SICA delegation also attended the inauguration ceremony of Sovima Cricket Ground in Dimapur.
The event was attended by Nagaland Chief Minister Neiphiu Rio, Athletics Federation of India associate vice president Abu Metha, executives of Northeast cricket bodies and dignitaries, informs a SICA release.
SICA president Lobzang G. Tenzing said the Nagaland Chief Minister has played an integral role in the existence of Northeast Cricket Development Committee. "He (Neiphiu Rio) has given us shelter when we needed one and has offered his guidance when we were lost," said Lobzang.
"Northeastern States and its children for the longest time have not had access to the opportunities and facilities. Therefore, such meetings serve to encourage growth, learning and sharing amongst the members. These are the very pillars on which NECDC was formed, a means to not just represent each one of us collectively but to encourage unity amongst our Northeastern States," added Lobzang, who along with SICA honorary secretary Tshewang Lama was felicitated by the Nagaland Chief Minister on the occasion.
Lobzang and Lama were felicitated on account of their efforts for the development of cricket in Sikkim.
"The current State of cricket in Sikkim and the benefits the people of the State are now entitled to are the results of an uphill battle. It would not be farfetched to say that these benefits are a direct byproduct of the work that has been put in by NECDC and its founding members. To that effect Sikkim represented by president Lobzang G. Tenzing and secretary Tshewang Lama has also been a major contributor to the cause. Sikkim along with the other North Eastern States today finds itself in a position of equal footing when compared with the rest of India particularly with regard to the nature of its membership in the BCCI. This was not the case till just a few years back and it was only through a concerted effort by the members of the NECDC that Sikkim along with the other North Eastern States were represented and our prayers heard," states the SICA release.