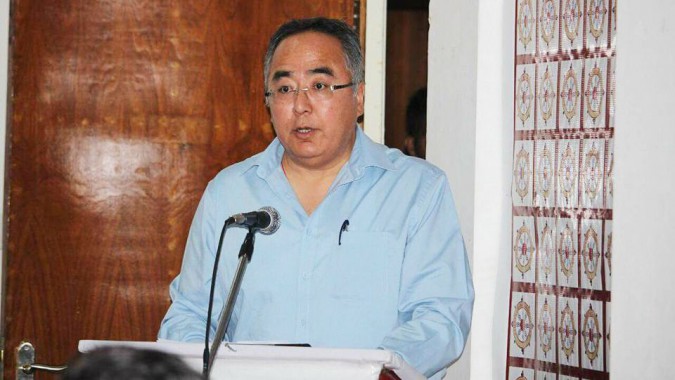 Tuesday, Sep 07, 2021 05:45 [IST]
Last Update: Tuesday, Sep 07, 2021 00:14 [IST]
SICA plays hardball against guest players
SAMIR NUGO
GANGTOK,: The Indian domestic season is about to start and while it has been common practice for teams at the senior level to rope in professionals from other parts of the country on the basis of their past performances and records, Sikkim has this season decided to hold selection trials for men and women guest players.
"One reason for conducting trials for guest players was basically to find younger players. For the last three years, we have looked at players with strong CVs but most of them were on the verge of retirement," said Sikkim Cricket Association (SICA) president Lobzang G. Tenzing to SIKKIM EXPRESS.
A team of SICA officials and selectors last month visited Karnataka which has a legacy of producing some of the finest cricketers the world has seen. "Karnataka is known for the quality of cricket, and cricket in Karnataka has always been administered by brilliant people. It is one of the few States to own over 20 cricket grounds, and they have world class academies. I think they are one State to look up to as mentor. And that's why we are trying to look up to these states and ask them for their advice and work with them. If could be win-win for both of us," said Tenzing.
In Karnataka, SICA conducted a two-day trial with one day devoted to players from within the State of Karnataka and the other day for cricketers from other States including Maharashtra and Andhra Pradesh.
The shortlisted players were then invited to SICA cricket ground at Mining for selection matches from where they pruned the final list of guest players. After a series of practice matches, Liyan Khan, Karthik C.A and Kranthi Kumar, all from Karnataka, made the cut in Sikkim senior men's squad.
Likewise, Rinki Rajak and Manisha Mumtaz from West Bengal and Jetsun Narbu Chee from Mumbai were selected for senior women's team.
While, ages of the male guest players are 28, 28 and 29, the female players are relatively young, with one, Jetsun Narbu, only 16 years of age.
"Since last year, we have been thinking of getting young players who have been left out of the senior team or under-23 team of their respective States, who want to show their playing skills with great grit and determination, unlike the players are on the verge of retirement and are not as much focused on the game," added Lobzang.
The SICA president said the other reason was that they wanted players who can commit their long-term future to the SICA.
"We want to give platform to talented and younger players from top performing States who are capable and can be with SICA for at least a few years. Changing guest player every year is not a good idea. If they play for at least three-four years, the team will become more compact. That was also one of the intentions."
Their stay in Sikkim will, however, depend on their performance.
Although the new signings are for at least 3-4 seasons, Lobzang said, they could be released after the first season itself. "It's a performance-based. If they can't perform then we will have to release them. It is simple as that."
Many States hire guest players as player-mentors in their teams so that young players can be groomed. But for SICA, performance is the priority.
"Of course people are saying that having senior players would have helped with guidance but these new guys are top players and I am sure they will do wonders in Plate division. They have been playing in top competitions and their experience, I think, is no less than other players that have been with us since last couple of years. Also, they have taken a huge risk to play for Sikkim. Because of a policy there, these players cannot return and play for Karnataka again. So, we can expect them to give their best, serve with dedication…and also expect loyalty form them," said Lobzang.
The SICA chief added, "I don't know whether their (past guest players) contributions on and off the field has been anything significant. I have not heard much. Apart from the first season, our guest players didn't perform as expected. They had too much egos; the relationship with local players was not that great and coaches were also having difficulty managing them."
Sikkim was initially averse to hiring processional players. Sikkim started Indian domestic campaign in 2018 with Vijay Hazare Trophy, with home grown talents. Its abysmal performance at the tourney, however, prompted it to recalibrate its strategy.