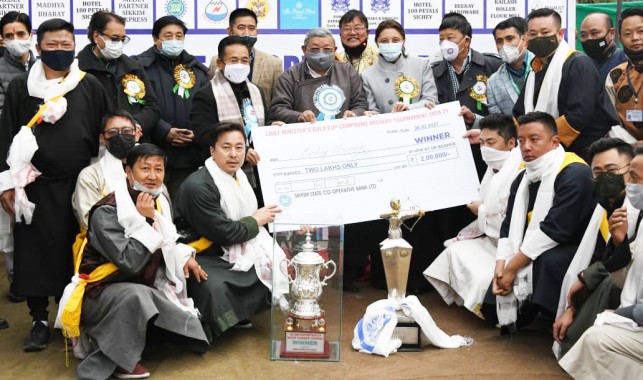 Sunday, Feb 07, 2021 07:45 [IST]
Last Update: Sunday, Feb 07, 2021 02:10 [IST]
Sichey Mavericks lifts CM's Archery Gold Cup
GANGTOK,: Sichey Mavericks defeated Todey Zorbas Kalimpong on Saturday to lift the Chief Minister's Gold Cup archery tournament here at archery ground, Tathangchen.
The Sichey team outscored the Kalimpong side 59-32 to win the final.
Chief Minister P.S. Golay was the chief guest for the final and handed away the trophies and cash prizes. He presented Rs. 2 lakh and Rs. 1.5 lakh to the winning and runners-up team respectively which made the total winning amount of Rs. 4 lakh for the winners and Rs. 3.5 lakh for the runners-up.
Sikkim Archery Association (SAA) had organised the tournament in 2020 but it got postponed due to Covid pandemic. The tournament resumed in January 23 with a revamped fixture for 14 participating teams.
SAA president Sonam Bhutia informed that the tournament resumed after consulting with the State government.
"Earlier in 2020 we had 23 teams from Bhutan, West Bengal and Sikkim but it was halted due to the pandemic. Thereafter we resumed the tournament in 2021 with local teams and one team from Kalimpong after re-drawing the fixture", Sonam added.
Expressing his gratitude on behalf of the association, the SAA president presented token of love to the Chief Minister, dignitaries, participating teams and all the sponsors.
Four compound bows were sponsored by the independent power project developers which will be utilised to train female archers in coming days.
AWARDS
Archer of the Tournament and Man of the Match: Gyaltsen Lachungpa (Sichey Mavericks
One day highest target: Dorjee Bhutia, TAC Namchi (19 kari in 20 rounds)
Highest Thubjee of the tournament: Karma Tseten Bhutia (Green Tara)
Most promising player: Thenthar Lepcha & Palden Tshering Bhutia, both from Bayul Demazong.