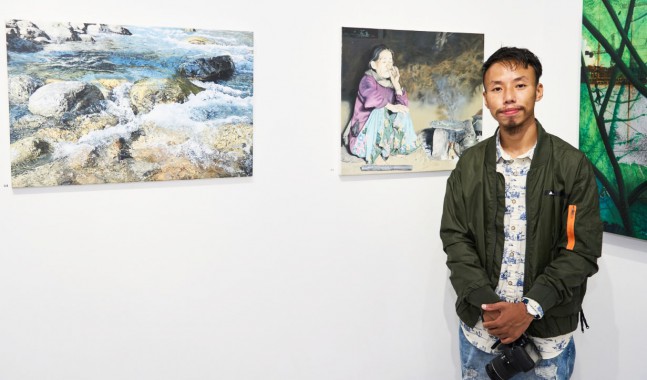 Saturday, Sep 03, 2022 08:00 [IST]
Last Update: Saturday, Sep 03, 2022 02:29 [IST]
Sikkim artist's works exhibited in New York
ISABELLA GURUNG
GANGTOK,: Deo Prasad Rai of West Sikkim village recently participated in The Chelsea International Fine Art Competition in New York.
A total of 28 artists different handpicked from hundreds of international applicants had exbibited different mediums of arts including painting, sculpture, photography, drawing, mixed media, and print.
Deo Prasad had displayed two of his paintings – one titled 'A Lady with Her Teapot' and the other titled 'Shades of Blue'.
The 25-year-old self-taught painter, who has been painting since the age of 10, said he is "extremely thrilled" to have exhibited his paintings at the renowned Agora Gallery in New York.
"The competition had hundreds of artists, and I am happy that I got to make my State and country proud at the international level. I had applied for the competition online, a year ago and 28 artists from all over the world were shortlisted by a panel of jurors, and our work were exhibited at Agora Gallery," he added.
'A Lady with Her Teapot' and 'Shades of Blue' are realistic arts, depicting ordinary things, everyday situations and traditional realism, and comprehending different forms of nature. They come under the traditional category in the competition. Both the paintings were done in acrylic. 'A Lady with Her Teapot' took Deo Prasad about a month to complete, while for 'Shades of Blue'he invested almost three months.
Through this exhibition competition, Rai also got an opportunity to promote his art and make direct connections with art collectors worldwide. His profile was also displayed in the Agora Gallery.
Rai has participated and won various art competitions and awards in his professional career. His work is most in oil and acrylic exploring nature, folklore, cultural values etc. He started painting from the age of 14.
The Chelsea International Fine Art Competition provides an opportunity for artists at any age of their career to gain exposure in the New York art scene. The competition was hosted by New York Art Competitions (NYAC), a division of The New York Fine Arts Group, established in 1984 by the late Miki Stiles, an artist who wanted to break into the NY art market and opened her own gallery, Agora Gallery. Ever since, NY Art Competitions has been providing artists/with competition opportunities to benefit them in advancing in their careers and promoting their work to a greater audience.