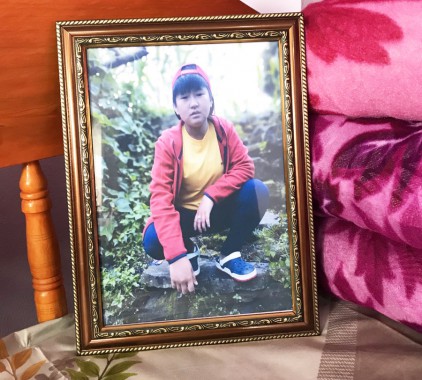 Monday, Jan 11, 2021 07:30 [IST]
Last Update: Monday, Jan 11, 2021 01:55 [IST]
Sikkim bid tearful farewell to footballer Reeya Lepcha
DICHEN ONGMU
RADHU,: Sikkim lost one of the leading lights in the field of sports on January 8. Hundreds bid a tearful adieu as the young footballer Reeya Lepcha was cremated on Sunday.
The last rite of Reeya Lepcha was performed at her native place of Radhu in Dentam, West Sikkim.
Her family, friends, batch-mates and well-wishers gathered to offer prayers and bid her final goodbye.
The 17-year-old right-winger was diagnosed with the the deadly Glioblastoma two years ago.
"It is heart-breaking to see my dear daughter leave us so sudden. Her absence will haunt us for life," said Reeyas' father Manjum Lepcha.
He recalled how cheerful Reeya was as a person how much she loved football.
"Being a football enthusiast I supported the interest of my daughter to be a footballer and that is when her journey in this field started. I am grateful to her for making us proud through her talent. Her achievements are now our fond memories," added Manjum.
He informed Reeya's health had improved after a surgery in Delhi following which she had resumed light practice back in Dentam.
"She was a fighter. Despite going through such strong medication and a surgery, Reeya always had a dream to make a comeback and resume her role as a footballer," shared Manjum.
Manjum thanked each and every one who came forward and extended their support and for keeping Reeya in their thoughts and prayers
G.R. Gurung aka Mundu, Reeya's first coach in Dentam Girls Football Academy, remembered Reeya as a hardworking, obedient, disciplined and dedicated footballer.
"She was one of our academy's finest assets who would mould in any position as per the demand of the game. If she had been alive she would have definitely been a part of national team in future. I just didn't lose a student today, I lost a daughter," shared Mundu over phone. He is at present posted in Kabi, North Sikkim.
Reeya was not just a talented footballer but a good friend as well. "The moments shared with her from hostel to pitch will be missed big time. Our team is now incomplete without her," shared her batch mates who were present in the funeral.
Reeya Lepcha was born on January 3, 2004 to Manjum Lepcha and Sanchamit Lepcha at Radhu village. She has a younger sister and a younger brother. Student of Dentam senior secondary school, Reeya started her footballing career in 2016 with the opening of Dentam Girls Football Academy.
She represented Sikkim at national tournaments like Subroto Cup and Oorja Cup, and also played in State-level leagues and tournaments.
In 2019, she was diagnosed with brain tumour and she underwent her first operation in Delhi successfully. During that time, the family had sought for financial aid to which entire Sikkim came out and helped her through various donation drives.
In 2020, she was unable to travel to Delhi for her review due to Covid-19. Thereafter, her check-up continued in Central Referral Hospital, Tadong for months.
On January 8, she breathed her last while on her way to home from hospital.