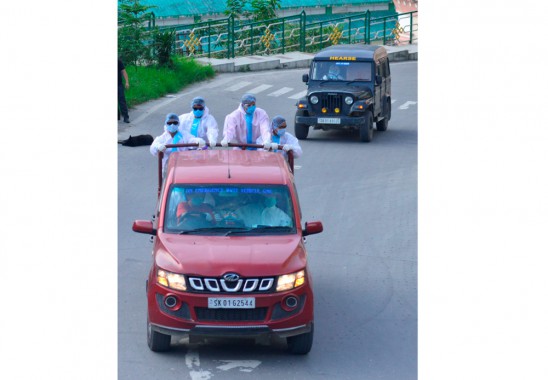 Wednesday, Oct 14, 2020 09:45 [IST]
Last Update: Wednesday, Oct 14, 2020 04:12 [IST]
Sikkim Covid death toll reaches 59 Five Covid positive persons not reachable in their contact numbers
SE Report
GANGTOK: Two more Covid deaths were reported from STNM Hospital Covid care centre on Tuesday taking the State's Covid death count to 59.
Both had tested Covid positive and suffering from comorbidities, as per the Health department.
The first death was a 68-year-old male patient from Arithang, Gangtok. He had been admitted on October 2 and was suffering from pneumonia with acute respiratory problems. He passed away at around 3:15 am.
The second death was a 35-year-old male patient who was working at a company in Mamring. He passed away at around 11:57 am at the ICU. He was suffering from acute respiratory problems and hypertension. He had been admitted on October 7.
The deceased hailed from Kolkata and his family members are reaching Gangtok to perform the final rites. The final rites would be held on Wednesday as per Covid protocol, it was informed.
Meanwhile, 236 samples were tested on Monday which produced 50 new Covid positive cases. The State's active Covid tally is now 346, informed the Tuesday health bulletin.
Among the new cases, 42 are from east district, six cases are from south district and two are from north district.
In east district, most of the Covid positive cases are from in and around Gangtok including Development Area, DPH Colony, Sichey, Metro Point, Arithang, Tadong and Burtuk. The other cases are from Majitar near Rangpo, Shantinagar, Rhenock, Ranipool, Jalipool, Chujachen and Pakyong areas.
Two children aged five and fifteen years respectively also tested Covid positive. Their address was recorded as 'Gangtok' and as per the health bulletin, contact could not be established in their given phone numbers.
Similarly, two elderly persons aged 70 years and 80 years respectively from Tadong tested Covid positive. However, they could not be reached on their given contact numbers.
One 22-year-old female from Rongey area also tested positive but is unreachable in her phone number.
All the five Covid positive persons have been appealed to contact the Health department.
In south district, four persons from different parts of Namchi and one person from Yangang tested Covid positive.
It was also clarified in the health bulletin that contact has been established with Sushant Rai, detected with coronavirus on Sunday. The bulletin on Monday had announced that person was not reachable at the given phone numbers while appealing him to contact the Health department.
However, it was informed on Tuesday that contact has been made with the person who, as a responsible citizen, has already isolated himself in a paid quarantine facility and undergoing treatment there.
So far, 2933 persons in Sikkim have recovered from coronavirus. The State's total confirmed cases have reached the figure of 3417.