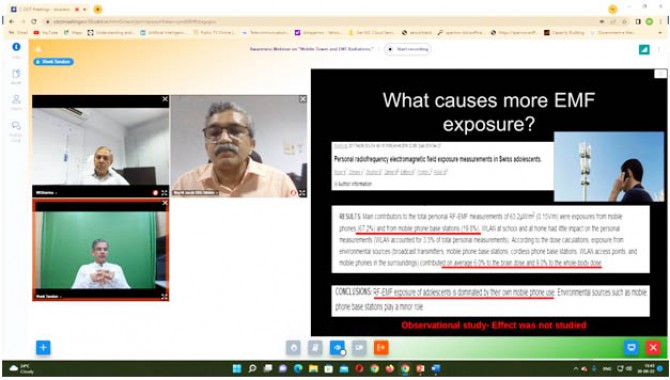 Saturday, Oct 01, 2022 09:00 [IST]
Last Update: Saturday, Oct 01, 2022 03:28 [IST]
Sikkim DoT conducts webinar to dispel myths about EMF radiation from mobile towers
GANGTOK,: The Department of Telecommunications (DoT), Sikkim Unit, West Bengal License Service Area (LSA) organized an awareness webinar on 'Mobile Tower and EMF Radiations'" on Friday as part of Azadi Ka Amrit Mahotsav.
The session was organised as part of DoT's public advocacy program to dispel myths around EMF radiation and to address unfounded fears of citizens by presenting credible scientific evidence, a PIB release informs.
At the outset, DoT Sikkim director Jayanta Kole welcomed all the delegates.
Rakesh Kumar Sharma, sr. DDG, head of WBLSA inaugurated the webinar through on-line mode.
In his key-note address, Sharma mentioned the need of a strong and robust telecom network in Sikkim State as we are now entering in the world of 5G and that M2M services are used in automotive industry, logistics & fleet management, robotics, manufacturing, utilities, billing, traffic control, security etc.
To achieve this, more number of towers and BTSs are to be installed by the telecom service providers.
Sharma expressed his hope that this webinar will help the agencies and citizens to understand that there is no health hazard from mobile tower radiation. This may enable the service providers to install more and more BTSs in the State of Sikkim, he said.
Roy M. Jacob, DDG Sikkim, DoT, outlined the present picture of the telecom infrastructure in Sikkim and further expectations and challenges. He highlighted that telecom towers are the backbone of mobile communications and for need of more tower installation to achieve goal of a digitally connected India.
Dr. Vivek Tandon, senior assistant professor of Neurosurgery, AIIMS addressed the concerns of citizens while also debunking myths and misinformation related to health hazards connected with radiation from mobile towers. Citizens can rest easy knowing that mobile tower radiation poses no health concern, as India's EMF radiation standards are ten times stricter than the limits set by the International Commission on Non-ionizing Radiation Protection (ICNIRP) and adhere to the World Health Organization's recommendations (WHO), he said.
An extensive study on EMF signals has not been able to prove that mobile tower radiation has any harmful effects on human health.
The webinar was attended by officers from various State government departments, telecom service providers, COAI, and citizens.
The webinar ended with a vote of thanks by Sikkim DoT director Jayanta Kole, the PIB release mentions.