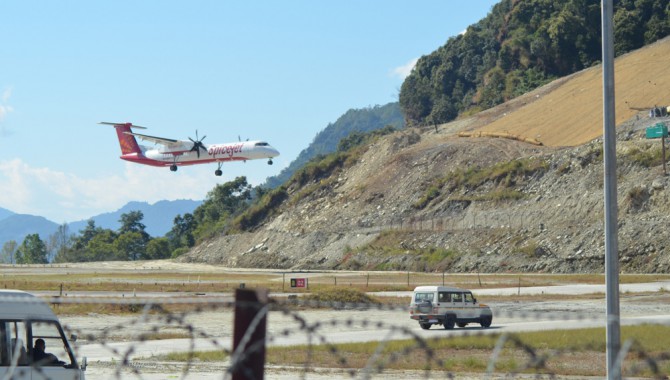 Wednesday, Nov 18, 2020 19:00 [IST]
Last Update: Wednesday, Nov 18, 2020 13:34 [IST]
Sikkim flight operations may resume from Jan 2021

AJAY THAMI
PAKYONG: A Spicejet aircraft conducted a successful flight trial of Required Navigation Performance (RNP) procedure on Tuesday at Pakyong airport here, about 35 km away from Gangtok. The RNP procedure assists the aircraft to execute an instrument approach to non-instrument runway which was designed by Airport Authority of India and approved by DGCA especially for Pakyong airport.
It was for the first time that a commercial airliner had landed at Pakyong airport since June 1, 2019. The Spicejet flight operation had been closed owing to technical and visibility issues, particularly during foggy weather conditions. The Spicejet Q-400 Bombardier made RNP runway approach five times between 11 am to 12.03 pm at the airport along with landing at 12.18 pm. The aircraft departed from the Pakyong airport at 1.24 pm.
The aircraft had only its chief pilot Snehanshu Sarkar, co-pilots and cabin crew. They held a meeting with the Pakyong airport director wherein it was conveyed that all the approaches as designed by the AAI were successful.
If the satisfactory flight trial reports are received by DGCA (Directorate General of Civil Aviation) and as per ICAO requirement, the same shall have to be published as AIP supplement by AAI. For implementation of procedure towards flights, operations would be January 28, 2021.
The main purpose of the instrument approach procedure is to improve the safety and regularity of aircraft approaches with lower visibility conditions for which the runway has to be declared as 'instrument'. However, status of Pakyong airport remains 'non-instrument' as of now.
In a brief interaction with SIKKIM EXPRESS, chief pilot Snehanshu Sarkar expressed hopes that flights to Pakyong airport would resume from January 2021. The AAI has developed a system which reduces the required visibility from five km to three km or 2.5 km for landing at Pakyong airport, he said. I think there are no worries in landing flights here at Pakyong airport, he added.
The RNP procedure report at Pakyong airport, upon endorsement by the authorities, could lead to resumption of passenger flights from Sikkim in last week of January 2021.

Pic: The Spicejet aircraft landing at Pakyong airport.