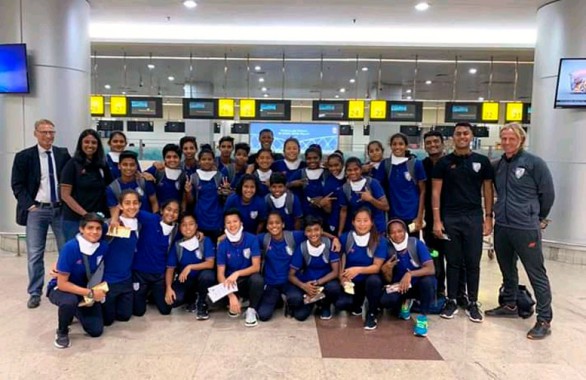 Thursday, Feb 13, 2020 14:30 [IST]
Last Update: Thursday, Feb 13, 2020 08:45 [IST]
Sikkim girl in Indian u-17 football squad for Turkey exposure trip
KUNAL RAI
GANGTOK: Sikkim girl Sridevi Subba is in the u-17 Indian women's national team presently at Istanbul on an exposure tour as part of their preparation for the forthcoming u-17 FIFA Women's World Cup India 2020.
The Indian team reached the capital of Turkey on February 10. They will be playing two matches against u-17 Romania women's national team on February 16 and February 19, an AIFF press release informs.
Sridevi (16) is in the Indian squad at Istanbul as a central midfielder. She along with Laxmi Thatal (15) was selected for the u-17 Indian team in November last year followed by Muskan Subba.
Laxmi and Muskan have returned back home to give their CBSE class X board exams which starts from February 15.
Sridevi hails from Karmatar, Dentam while Laxmi is from Hee Bazaar, both from West Sikkim. Muskan is from Timberbung near Chakung in West Sikkim.
Speaking with SIKKIM EXPRESS, Sports minister Kunga Nima Lepcha expressed his happiness that a girl from Sikkim is playing for the u-17 national team in the World Cup preparatory tournament. It is an encouraging and happy moment for Sikkim, he said extending his best wishes to Sridevi.
Laxmi and Sridevi are products of Dentam girls football academy while Muksan is a product of Soreng girls football academy. Laxmi and Muskan will be joining the national camp immediately after their board exams, it was informed.
The Sports minister pointed out that the selection of three girls from Sikkim in the u-17 national team for FIFA Women's World Cup India 2020 was a result of the encouragement given by the SKM government towards sports.
"The sporting activities in Sikkim were at the verge of extinction but with the formation of our government and the Chief Minister's support, encouragement along with the team effort of the department and officials, today the Sports department has become vibrant. We want more and more talents of the State to be traced and groom them in the national and international platform. For this, we will put in every effort," said Lepcha.
The u-17 women's World Cup is taking place in November 2020 in four cities of India.