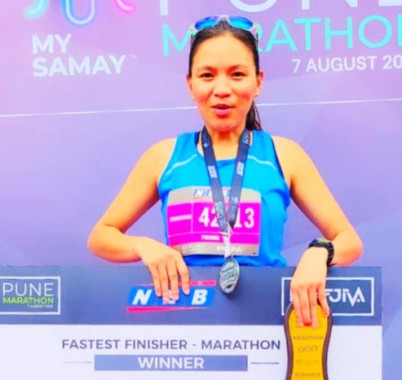 Tuesday, Aug 09, 2022 11:45 [IST]
Last Update: Tuesday, Aug 09, 2022 06:15 [IST]
Sikkim girl wins Pune marathon
ISABELLA GURUNG
GANGTOK, August 8: Sikkim marathoner Asha Phurba Tamang won MySamay Pune Marathon held at Mahavir Jain Hostel ground in Pune on August 7.
She completed the 42.2-km full marathon in 3 hours and 45 minutes, finishing ahead of runners from Hyderabad and Kolkata.
"The marathon was extremely tough as the route was new. However, this is my second official full marathon after Kolkata last year. My timing has also improved as I had completed Kolkata marathon in 3 hours and 58 minutes," Phurba told SIKKIM EXPRESS.
Phurba was awarded a cash prize, medal and trophy.
The 26-year-old hails from Lingmo, South Sikkim. She started running marathon in 2020 only.
MySamay Pune Marathon is organised by NEB Sports which also organises Shriram Properties Bengaluru Marathon, New Delhi Marathon, AFLI Mumbai Half Marathon, Kolkata Full Marathon and Hyderabad Half Marathon.