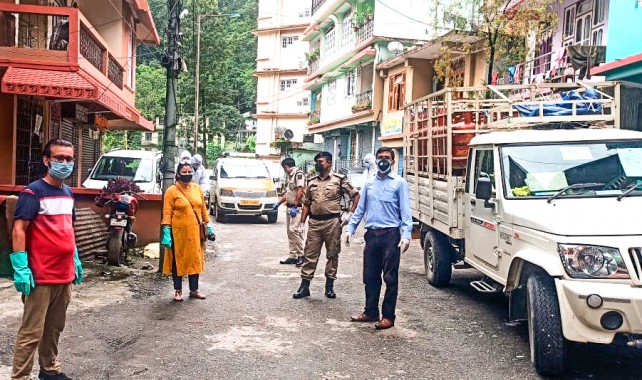 Wednesday, Jul 15, 2020 11:45 [IST]
Last Update: Wednesday, Jul 15, 2020 06:18 [IST]
SIKKIM HALTED AS RONGLI-RHENOCK REELS UNDER COVID SURGE
Two bazaars sealed, two subdivisions under lockdown
45 new Covid cases, frontliners infected
BIJOY GURUNG
GANGTOK: Twenty one SSB personnel posted in Rhenock area, East Sikkim have tested Covid-19 positive while 15 others including local frontliners exposed to GREF personnel in Rongli were found to be infected with the contagion in the past 24 hours. It is also the first instance of local-level transmission in Sikkim.
Six returnees were detected with coronavirus during the rapid antigen testing at Rangpo.
Altogether 45 new patients were admitted at the designated Covid-19 centre, STNM hospital taking the State's active tally to 112.
In his Tuesday health bulletin, Health director general-cum-secretary Dr. Pempa T. Bhutia informed that samples of 36 personnel of SSB based in Rhenock area had been taken and among them, 21 came positive.
The SSB mans the Indo-Nepal and Indo-Bhutan borders and is also posted at Rhenock area which shares border with Bhutan.
In the first week of July, 20 SSB personnel posted in Rhenock had tested positive for coronavirus. The new 21 cases are primary contacts of these previous patients.
With this surge in infection rates, the east district administration on Tuesday declared Rhenock bazaar as a containment zone given the fears that it may become a probable Covid hotspot.
About 12 km away from Rhenock bazaar lies Rongli bazaar which is also a containment zone since July 11. Similar fear of Covid hotspot have arisen with detection of multiple coronavirus cases in 103 RCC, GREF compound, about half a km away from Rongli bazaar.
Health workers had on Sunday collected samples from 75 persons who were attached to the GREF compound in various capacities.
Among them, 54 persons were those who stayed outside but worked in the GREF compound as cooks, helpers or store worker. The group also included Health workers, police personnel and sub-divisional officials who came in contact with the GREF personnel and workers.
Tests of these 54 persons yielded 15 positive cases including one Health worker, one Police person and one person from Rhenock side who boarded a GREF vehicle driven by a GREF driver who later tested Covid-19 positive.
Results of 21 GREF personnel who also stayed outside are yet to come and will be shared tomorrow, said Dr. Pempa. He informed that samples of the primary and secondary contacts are being collected and rapid antigen testing kits could be dispatched to the field tomorrow.
Meanwhile at Rangpo screening centre, nine persons wanting to enter Sikkim were found Covid-19 positive during the rapid antigen testing. Three wanted to reach Singtam and return the same day. When told that they will be admitted in STNM hospital, the trio returned away from the border. The other six positive patients have been brought to the STNM hospital.