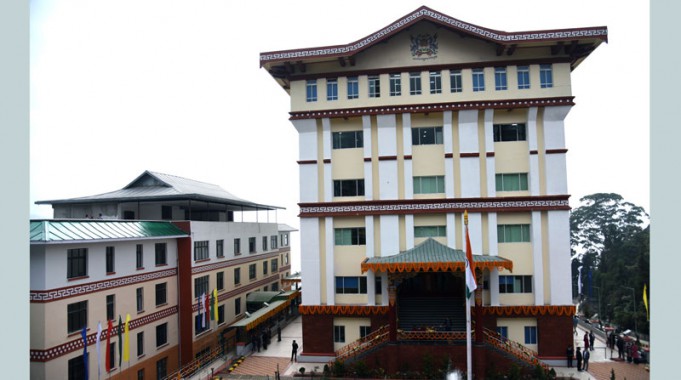 Tuesday, Mar 24, 2020 12:15 [IST]
Last Update: Tuesday, Mar 24, 2020 06:41 [IST]
SIKKIM IN LOCKDOWN FROM MAR 25
Govt offices to function with minimum staff, strict restrictions on vehicular movement, non-essential commercial establishments to shut down

SE Report
GANGTOK: Sikkim is going for a lockdown starting March 25 till March 31 with complete ban on movement of movement of non-government vehicles, closure of all commercial establishments and government offices to function with skeleton staff strength. Shops selling essential commodities and vehicles doing essential services are exempted.
The lockdown as a preventive measure against coronavirus spread was notified by the respective district magistrates in all the four districts of Sikkim on Monday.
All shops, hotels, eateries, private offices, factories and godowns were directed to close down their operation from 6 am of March 25.
The exempted are:
Law enforcement agencies
Health services and their transportation
Utility services of urban local bodies
Telecom, internet and postal services
Banks & ATMs
Shops for PDS, groceries, vegetables, fruits, meat, fish, bread & milk, and medicines and the services for storage and transportation of required items. These shops will operate from 9 am to 8 pm.
Petrol pumps, LPG cylinders, oil agencies and Sikkim Milk Union & its outlets, their godowns and transportation
Private clinics, pharmaceutical manufacturing, medical equipment manufacturing and their transportation
Commissioned power generation projects and their transportation
Animal and cattle feed and their transportation
Manufacturing units engaged in production of essential commodities with permission of the government
Inter-State & Intra-State movement
As per the prohibitory orders, there shall be complete ban on inter-State movement through the border checkposts of private vehicles, buses, taxis, two-wheelers expect vehicles engaged in law enforcement, emergency services/cases and supply of essential commodities. Government vehicles, private vehicles and taxis shall be allowed to leave Sikkim only in cases of emergency after showing necessary permits issued by the SDM or the BDO.
A complete ban on movement of all private vehicles, two-wheelers and taxis with the State was also notified except those in the exempted category. People are required to stay at home and come out only for basic services while strictly following social distancing guidelines.
Govt to function with minimum staff
A circular was issued on Monday by the State chief secretary directing the heads of departments to ensure that the offices are operated with skeleton staff strength to maintain functional level working of their offices and to ensure that all important works are promptly attended to. Others may be advised to stay at home and be available for any exigencies, on phone/mobile and through electronic means of communication.
The deployment of staff and officers are to be done on rotation basis. All gazette officers are to remain in station and be available at all times on their phones. Similar instructions are applicable for PSUs, autonomous bodies, societies and boards under the administrative control of the departmental heads.
The instructions are not applicable to those engaged in essential/emergency services and those who are concerned directly or indirectly engaged in taking measures to control the spread of coronavirus.