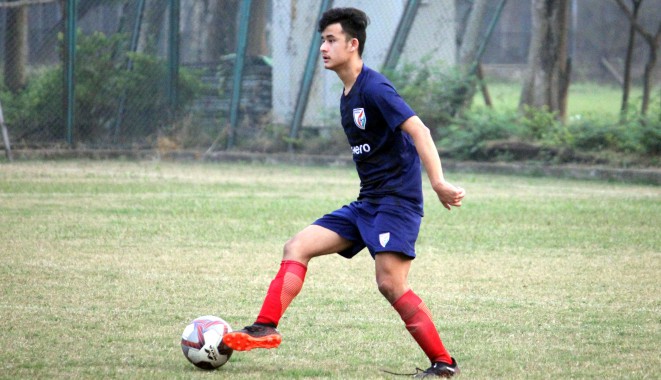 Sunday, Feb 14, 2021 08:00 [IST]
Last Update: Sunday, Feb 14, 2021 02:25 [IST]
Sikkim lad makes I-League debut
DICHEN ONGMU
Always dreamt of turning professional: Evan Thapa
GANGTOK : Sikkimese footballer Evan Thapa made his debut in professional football league this year with I-League team Indian Arrows. He has made his place in the team and has played five I-League matches so far.
Thapa, who plays a defender and hails from Arithang in Gangtok, spoke with SIKKIM EXPRESS over phone. Following are the excerpts from the interview:
From a local football club to India junior team and now Indian Arrows how has been the journey so far?
THAPA: Firstly, I am thankful to god and my family, who have always supported me. It has been a good journey so far and I want to keep moving forward from here. Sikkim has produced so many great players in the past and I hope to make everyone proud in the future.
I played for three years in the local league and was selected in the trials for the India U-15 team held in the State in 2018. Then, I gave trials in Bhubaneswar where I was selected after a rigorous process.
Since then, I was part of the AIFF Academy set-up in Odisha which has helped me develop as a player thanks to the amazing facilities and coaching we received. At junior level, I have played in a number of international games such as the SAFF U-15 Championship and in exposure tours to UAE, South Africa, etc.
What it's like to be a professional footballer? Do you feel AIFF's idea of having a developmental team will help nurture young talents like you?
THAPA: It means a lot to me to play for the Indian Arrows in the Hero I-League. I have been working hard on my game for many years and always wanted to be a professional player from the start but I never thought that I would have the opportunity to play at such a big platform at such a young age.
I am very happy to be a part of the Indian Arrows and it is a matter of great pride for me as every aspiring youngster in India wants to play for the Arrows. So many players who have played for the Arrows have gone on to play for the senior national team.
It is a great opportunity for us to play against senior and foreign players. It is an invaluable experience for us and we are learning every day in training and from our matches. Venkatesh sir (head coach), Mahesh sir (assistant coach) and the whole staff are helping me a lot to become a better player and I am always thankful to them.
What's life is like inside bio-bubble and how pandemic has affected you?
THAPA: It is challenging to be a part of the bio-bubble and requires us to be mentally strong in order to cope with the new circumstances. Having online sessions helped us during our quarantine period and we would stay fit by exercising in our rooms using equipment such as medicine balls and doing drills in the space we had.
At the same time, we are glad that football has returned after everything was shut down due to the pandemic and we are getting the opportunity to play and do what we love the most. We are grateful for the efforts being put to organize this league in such challenging circumstances.
How does it feel to play with the experienced players and big teams?
THAPA: I feel happy to play at this level against such big clubs. Two-three years ago, I used to watch these players and teams on television and facing these sides now on the pitch in the Hero I-League is a great feeling and opportunity.
At junior level, there is not as much pressure. However, being part of the Indian Arrows means that the whole country is watching you play and has high expectations from you. Playing against senior players and teams is physically and technically demanding and we have to prepare ourselves in both aspects. We are becoming mentally stronger with every game we play and improving day-by-day as individual players and as a team.
Any bitter-sweet moments you would want to share?
THAPA: The most special moment for me so far is making my junior India debut in the SAFF U-15 Championship against Nepal. Wearing the blue jersey of India for the first time in a match was a very emotional moment.
Where do you see yourself in next three years?
THAPA: My aim is to keep working hard and keep growing as a player and as a professional. Through Indian Arrows and the Hero I-League, we have got the perfect platform and I want to make the best use of this opportunity. The dream for every player is to play for the senior national team and that is my aim for the future.