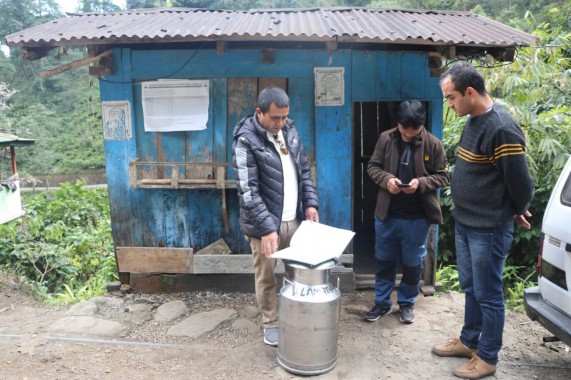 Wednesday, Dec 08, 2021 08:00 [IST]
Last Update: Wednesday, Dec 08, 2021 02:18 [IST]
Sikkim Milk Union starts 'white revolution' from West Sikkim
PRITAM LAMA
GEYZING,: A team of officials from Sikkim Milk Union headed by managing director A.B. Karki has started a 'Mission Milk – White Revolution' from West Sikkim with an aim to reach out with awareness and encouragement to farmers and milk producers of the state.
On Monday, the team visited milk collection centres at Sindrong, Darap, Lamathang, Tathang and Thingling.
Speaking to this correspondent, Karki said, "The main objective of this visit under the 'Mission Milk – White Revolution' is to revive rural economy and increase per capita income and purchasing power of our dairy farmers".
During the visits, the Sikkim Milk Union team will be verifying whether the government incentives are reaching to the remote areas, whether farmers are fetching good price for milk as per the prescribed rate, and to take stock of the problems of dairy farmers.
The managing director interacted directly with the milk producers at their doorsteps and took first-hand information from the farmers. Farmers also placed forth their grievances and suggestions to the officials.
"We are reaching out to the farmers residing in remote rural villages. We want to encourage and uplift the farmers by procuring their milk from their home-step," said Karki. He added that they will be opening a milk collection centre for the remote villages of Dhupi and Pokhari under Yuksam-Tashiding constituency on Wednesday.
"Dhupi and Pokhari villages do not have their own milk collection centres and the farmers have been facing difficulty to sell the milk. So, we are opening the collection centre to procure their milk from their village without any extra cost. We will arrange the transportation of the milk from their village to our plant. Their economy would boost through this initiative," the MD added.
During the visit, the Sikkim Milk Union team also distributed Covid prevention kit which included masks, gloves, sanitizers, thermometer and oximeter.