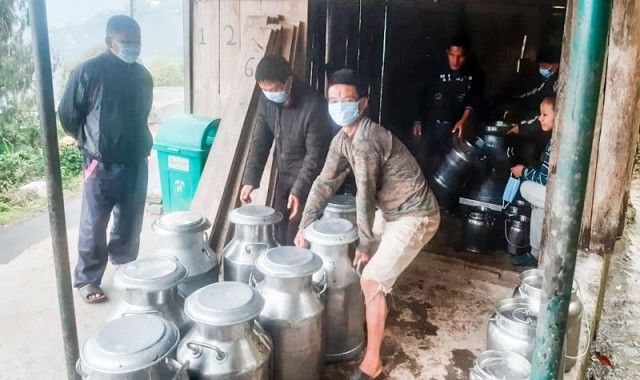 Tuesday, Mar 24, 2020 12:15 [IST]
Last Update: Tuesday, Mar 24, 2020 06:35 [IST]
Sikkim Milk Union to ensure regular milk supply during lockdown
PANKAJ DHUNGEL
GANGTOK: Even as Sikkim goes for a complete lockdown to stop the spread of coronavirus starting March 25, essential services including milk supply will not be disrupted across the State.
To assuage the concerns of milk producers and other persons involved in the supply chain, the Sikkim Milk Union has assured adequate measures to ensure supply of milk at this hour of medical emergency.
Sikkim Milk Union managing director A.B. Karki said appealed the farmers to continue supplying milk to Sikkim Milk Union saying the State government has ensured there will be no stoppage on milk supply vehicles such that it reaches maximum consumers. There is no need for panic and adequate supply will be managed, there may be delay which I appeal to the consumers to adhere to, he said.
The assurance comes in the wake of wastage of at least 50,000 litres of milk collected from various milk producers and suppliers across the State during the 'Janta Curfew' on Sunday and the odd-even traffic regulation on Monday.
On Sunday, the milk could not reach the Sikkim Milk's plant at 5th Mile Tadong as milk service vehicles were either delayed or stopped at border check posts citing total ban on traffic movement. On Monday, only around 25,000 litres of milk could be delivered owing to the partial restriction on traffic as part of odd-even scheme.
"The supply was hampered due to the 'Janta Curfew' with vehicles stopped at border checkposts, yesterday. Today, the suppliers stood confused over the odd-even traffic, most of the supply from rural areas are coming in the afternoon. There was a loss of around 38,000 litres on Sunday, the same loss is slashed to half over Monday. There has been an unprecedented loss of revenue as well with the confusion of lockdown orders," stated Karki on Monday. He maintained that the losses incurred over the last two days will be adequately compensated.
Stressing on the need of uninterrupted milk supply as an essential service amidst coronavirus lockdown, Karki said milk products can be a supplement to vegetables during emergency and milk helps in boosting immune system and all the rural panchayats and 317 co-operative societies have been well informed of the milk supply as essential. "We have now requested the concerned departments and officials in the government to give better accessibility to such suppliers and vehicles. However, at a time when the virus is spreading across the country, we will not compromise on the safety as well as the quality of milk," he added.
On the preventive measures, the managing director informed that the cooperatives and dairy farmers have been advised on use of masks and gloves to isolation of milching of cows by only one designated person from a family. Those with COVID-19 like symptoms have been asked not to go near cows and safety requirements such as sanitizers and soaps have been adequately provided.