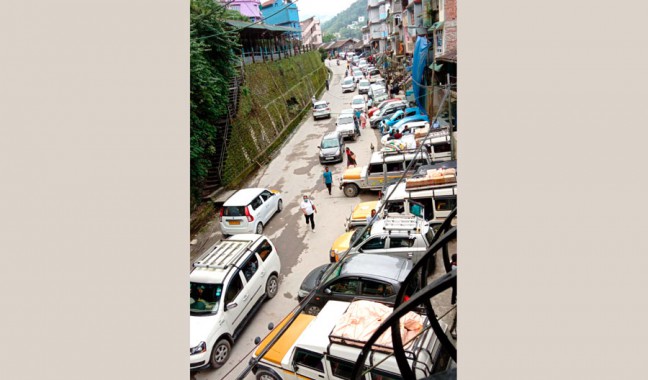 Wednesday, Jul 15, 2020 12:00 [IST]
Last Update: Wednesday, Jul 15, 2020 06:30 [IST]
SIKKIM: NO INTER-DISTRICT & INTRA-DISTRICT MOVEMENT
New Restrictions Till July 31
* Complete lockdown of Rongli and Pakyong subdivisions.
* Inter-District and Intra-District movement of people and vehicles shall be stopped forthwith, till further orders. Only local movement of people and authorised vehicles shall be allowed. Police to set up barricades/nakkas on all exit and entry points of district/municipalities/bazaars and other key locations to ensure that no movement outside local limits take place without authorization.
* The movement of all private vehicles including two-wheelers shall not be allowed. Operation of taxis shall however be allowed as per the existing odd/even stipulation for local movement only. Similarly, operation of two-wheelers will be allowed for the purpose of food delivery as per the existing guidelines. Movement of vehicles for supply of essential commodities and maintenance of emergency services allowed.
* All official meetings requiring assembly of people in Secretariat/government offices shall be postponed and will not take place, till further orders. Such meetings, if necessary, shall be held through video conferencing.
*Visits by public to Samman Bhawan or Secretariat to call on the Chief Minister, ministers, secretaries and other officers shall ordinarily not take place unless prior appointment has been requested and granted. The visits to the residential offices of the Chief Minister and ministers and senior officers shall also not be encouraged except in case of exigency and only with prior permission.
* The passes issued by authorities other than Home, Sikkim Police, Health and Forest departments shall become invalid. New passes, can however, be issued by (and under the signature of district collector alone), only in case of medical emergency, official purpose or extreme urgency.
* In view of local availability of labourers, BRO should immediately start inducting them to meet their labour requirements and not to bring labour from outside to that extent.
* Gyms and bars shall not be allowed to operate till further orders.

Inspection of quarantine centres
* District Collectors to visit the quarantine facilities created by the Army and paramilitary forces to satisfy themselves about the adequacy of arrangements and facilities available there.
* DC (east) and Buildings & Housing secretary to inspect the new community centre building at Rongli to explore possibility of creating quarantine centres for positive but asymptomatic cases. The SICUN building and Kanchenjunga complex also to be similarly inspected.
* DC (east) and SP (east) to ensure that entry of vehicles of pharma units is regulated in a proper manner. Drivers of such vehicles should compulsorily wear PPEs and return on the same day.

- Issued by Home department, Govt of Sikkim

Panic buying in Pakyong
AJAY THAMI
PAKYONG, July 14: Local residents resorted to panic buying of essential commodities and vegetables on Tuesday afternoon following announcement of complete lockdown of Pakyong and Rongli subdivisions. Both subdivisions will be under lockdown till July 31.
Things were normal till 3 pm but as news of lockdown came, people crowded the Pakyong bazaar to stock up their requirements.