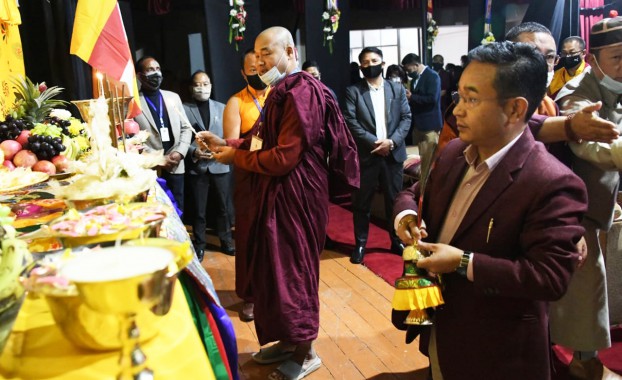 Tuesday, Feb 23, 2021 07:30 [IST]
Last Update: Tuesday, Feb 23, 2021 01:55 [IST]
Sikkim-North Bengal Buddhist Conclave held in Gangtok
GANGTOK,: A one-day 'Sikkim North Bengal Buddhist Conclave' was held at Manan Kendra here on Monday with Chief Minister P.S. Golay as the chief guest, an IPR release informs.
The conference was organised by Indian Himalayan Council of Nalanda Buddhist Tradition (IHCNBT) in collaboration with International Buddhist Confederation (IBC), Ministry of Culture and supported by State Ecclesiastical department.
Attending the conference was Ecclesiastical minister Sonam Lama, IBC director Shakti Sinha, senior monks, dignitaries from West Bengal and Delhi, Buddhist scholars, students from Sikkim Institute of Higher Nyingma Studies, Pangthang and Denzong Pema Choling and officers and staff of Ecclesiastical department.
In his address, the Chief Minister shared that Sikkim has always had the blessings of Guru Rimpoche in the form of his profound teachings. Buddhism permeates compassion and it should be our effort to carry out enlightened activities in any way that will guide us ensuring benefit and well-being in both the short term and the long term, he observed.
The Chief Minister added that in the Himalayan region, Buddhist heritage is undergoing a rapid transformation in its polity, culture and socio-economic changes leading to strategic challenges, which is one of the powerful factors for cultural mobilization and social stability in Himalayan region and will continue to play a key role in future consolidation of the strategic area of the country.
In conclusion, the Chief Minister said the government will work towards strengthening the traditional structures that will establish greater understanding and harmony among various Buddhist communities for larger good of humanity, peace and harmony.
Minister Sonam Lama, in his address, urged the learned audience to continue to work towards preservation of Buddhist culture and tradition. He mentioned that Buddhism always focused on wisdom-based education system which leads to right understanding of any subject. He said education system must be ingrained with knowledge and preservation of culture through development process.
IBC general secretary Dr. Dhammapiya, while expressing his pleasure on being part of the conclave, informed that International Buddhist Confederation is a global umbrella for Buddhism with members drawn from 39 countries working mainly on issues related to global nature, human existence, environment and harmony of co-existence. He stated that Buddhist teachings have reached different places and have become part of the culture of different countries and its people. He mentioned that in course of time, differences in terms of interpretation of teachings, practices, performing rites and rituals have developed. He attributed this to dynamism and said there was nothing wrong in it. If something is static, it will collapse but if something is dynamic it will survive in different form, he explained.
He informed that International Buddhist Confederation is working with international organisations where they have Dharma Councils on international aspects of Buddhist society and humanity at large.
Khenchen Chowang, chief abbot of Gonjoang Monastery, briefed about the importance of Nalanda Buddhist tradition.
Ecclesiastical special secretary Kincho Doma Lepcha presented a brief report of the activities of the department. She informed that Sikkim has more than 1133 religious institutions of various faith and communities which exist harmoniously. She said the co-existence of various faith influenced by the flavour of spiritualism is maintained by the State government through Ecclesiastical department which is the oldest and unique department that has its existence since the days of monarchy. She informed that the unique character of the department was carried out even after the State merged with the Indian Union and became a part of India in 1975. She informed that there are 96 monastic schools and 11 Sanskrit Pathshalas under the supervision of the department.
Earlier, the chief guest and dignitaries released the conclave brochure.
The conclave opened with the welcome address by Tseten Tashi Bhutia, Indian Himalayan Council of Nalanda Buddhist Tradition (IHCNBT).
An introductory note on the programme and briefing was delivered by IBC general secretary Maling Gompu.
The inaugural ceremony concluded with the vote of thanks proposed by Tshering Wangchuk Lepcha, additional political secretary (East) to the Chief Minister, the IPR release mentions.