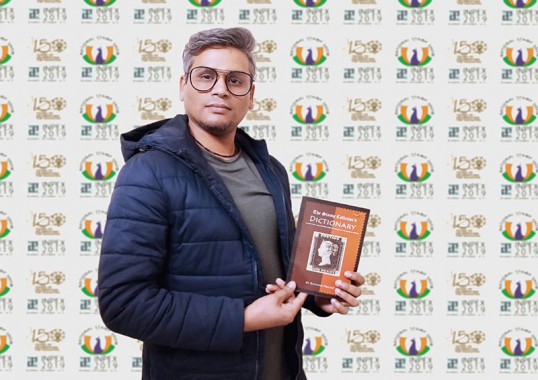 Monday, Dec 23, 2019 08:45 [IST]
Last Update: Monday, Dec 23, 2019 03:07 [IST]
Sikkim philatelist wins medal at INPEX-2019
GANGTOK,: Sikkim philatelist Roshan Prasad won a bronze medal at national philatelic exhibition, INPEX-2019, at World Trade Centre, Mumbai today.
The exhibition was organized by the Philatelic Congress of India from December 18 to 22 in collaboration with Department of Posts, India. Over 250 stamp collectors and enthusiasts from various States of India had participated in the competition.
Roshan Prasad, who hails from Singtam, is a popular philatelist with international recognition. He is also the treasurer of Sikkim Philatelic & Numismatic Society.
Prasad had participated in the literature class of the exhibition with his book 'The Stamp Collectors' Dictionary'. The book was published by Department of Posts, Sikkim Division in February during SIKKIMPEX-2019.
Roshan is known for his cricket collections. He started writing this dictionary in 2011, when he felt that there are so many words in stamp collection that new collectors should know and also there are many words which are still unknown to many senior collectors as well. He completed the book in 2016 with over 450 words and abbreviations that are in common use among stamp collectors.