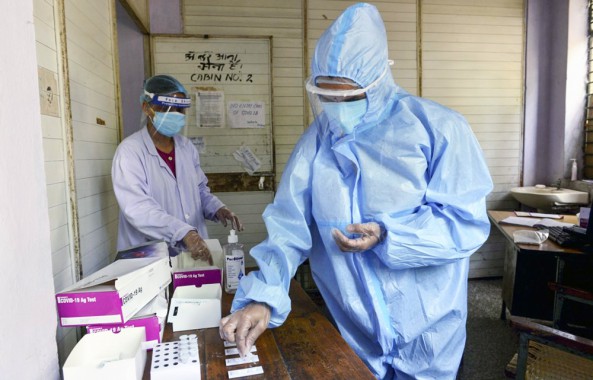 Wednesday, Sep 16, 2020 12:45 [IST]
Last Update: Wednesday, Sep 16, 2020 07:08 [IST]
Sikkim records 2 Covid deaths, 54 new cases
SE Report
GANGTOK: Two more deaths and 54 new Covid cases were registered in Sikkim on Tuesday, taking the casualty toll to 19 and total active cases to 464.
The 18thCovid death was of a 68-year-old man from Melli who passed away at STNM Hospital on Monday evening. The patient having diabetes and hypertension had tested positive at Namchi hospital and referred to STNM hospital here where he breathed his last. Also, a 41-year-old female, who was a dialysis patient and shifted from Central Referral Hospital yesterday passed away at STNM hospital today morning, said State IEC officer Sonam G. Bhutia in his daily bulletin.
Of the 54 new positive cases from the samples tested on Monday, at least 52 cases are from East Sikkim.According to Bhutia, eight patients have been admitted at the ICU of STNM hospital.
The cases have been reported from residents of Bar Pipal Sichey (1), Lower Sichey (1), Lemon Tree hotel (5),Lower Tathangchen (1), Below Forest Colony (1),Sinolchu hotel (1), Manbir Colony (1), STNM staff (1), Mc Leods pharma, Aho (1), Below Metro Point (1), Deorali (1), Below Railway Guest house (1), ChallamthangPakyong (1), Tathangchen (2), Sikkim Jewels, Tadong (1), DPH area (1), Burtuk (1), Sichey (1), Arithang (3), Thamidara (1), Sang (1), Martam Nazitam (1), Ranipool (1), Indira Bye Pass (1), Lingdok (1), Singtam district hospital (2), Sang Khola (1), Majhitar Rangpo (1), Shyapley (1), Rangpo (1) and Saramsa Garden quarantine (7), ICAR Jalipool (1), Tadong (1), Rey Khola (1) and Aritar (1). Two positive cases have been reported from Melli, South Sikkim.
The State's active Covid tally is now 464 as 1,690 patients have been discharged after recovering from Coronavirus. The total number of confirmed Covid cases in the State as on Tuesday is 2,173.